Video games have become an integral part of modern culture, as everyone, from young to old, plays them. For example, the average age of a gamer in the United States is already over 30 years old. The most convenient way to play is using gaming consoles and we will tell you how to choose a gaming console in 2021.
Best portative gaming consoles of 2021
Today we use mostly portable, or so-called mobile, devices. The mobility of smartphones, tablets, and laptops is so convenient that one can hardly refuse it. But if you want to play with the highest comfort on the go as well, portable gaming consoles will help you out.
Sony PlayStation Portable review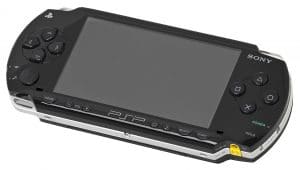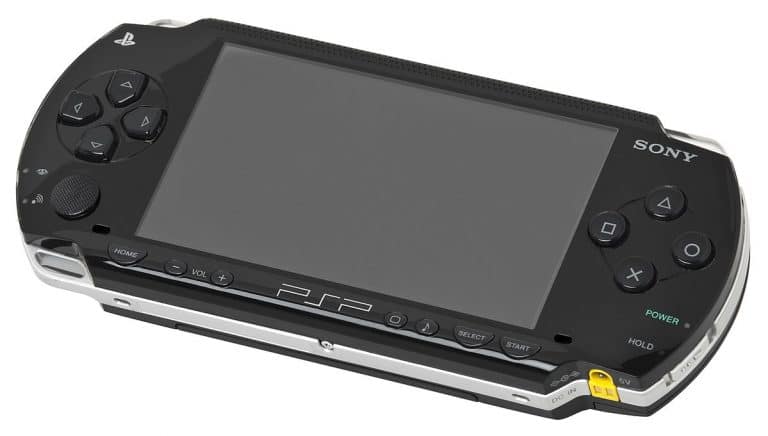 Sony PSP has quickly become popular thanks to its media capabilities and vivid games with high-quality graphics. The most obvious choice among portable consoles is probably the Sony PlayStation Portable (Sony PSP). It has a large high-quality screen, easy-to-use buttons and an excellent library of games with good graphics. With Sony PSP, you can also watch movies with comfort thanks to its quite large diagonal. Just insert a bigger capacity memory card if you want to use the console as a media player.
Any drawbacks?
They stopped making new games for it. But do not rush removing the PSP from the list because of this. You can find a game for every taste among the already released projects – from fighting games and puzzles to horrors like Silent Hill or epic role-playing games. These games have quite up-to-date graphics, so do not worry about them looking old. In addition, most PSP games are now sold at very attractive prices. The console itself can be purchased in the budget version without Wi-Fi.
Sony PlayStation Vita review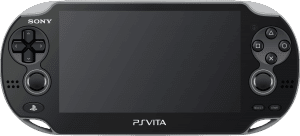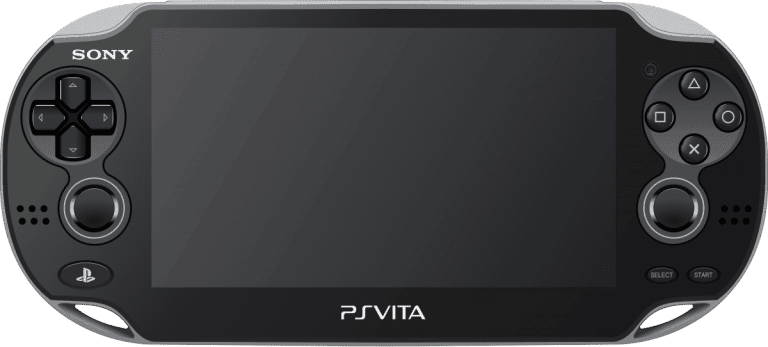 Sony PlayStation Vita (Wi-Fi) is the best portable console. Excellent body materials, a large touch screen, easy-to-use buttons … The price is also serious, though.
Passionate gamers may prefer Sony PlayStation Vita, the most up-to-date portable Sony console and the coolest portable console ever. It surpasses its predecessor PSP in everything. Vita has a better screen (touch-screen), two analog sticks (versus one in the PSP) and, of course, much more powerful hardware displaying cool up-to-date graphics.
Of course, at all these features Vita is into a completely different price category. It can be called a premium among portable consoles. Hence, the price tag for the console and games for Vita are very high.
Nintendo 3DS XL Review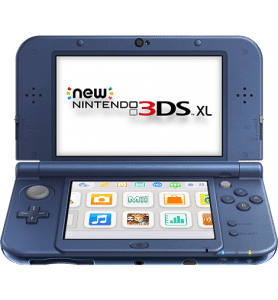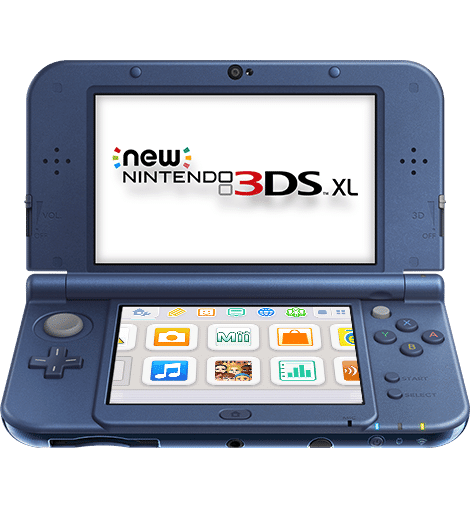 The portable console Nintendo 3DS XL will surprise you with a 3D picture without wearing 3D glasses. Fans of unusual Japanese games and legendary Mario should check Nintendo 3DS XL out.
This console has two screens:
a touch-screen at the bottom mostly used for menu navigation and displaying any additional information (for example, a map of the dungeon that your character is going in);
the main screen at the top displaying a 3D image.
To play in a 3D format, you will need no additional devices like wearing 3D glasses, as the stereo effect power is adjusted with a special slider. This is a very useful feature if you do not love stereo or gave a console to a child (some medical studies caution that a 3D picture is not very useful for children's eyes).
Nintendo 3DS XL attracts with Nintendo gaming hits. They include, of course, the adventures of Mario and his partner Luigi, the magnificent The Legend of Zelda and mega-popular TV series Pokemon.
Best stationary gaming consoles of 2021
Stationary game consoles are designed to play at home, in front of a large TV, on a comfortable sofa or armchair. The "home" consoles themselves can be grouped by generations.
Old generation stationary consoles
Sony PlayStation 2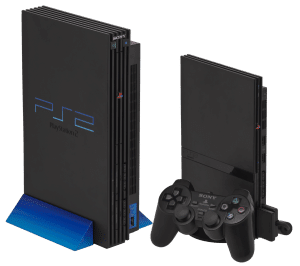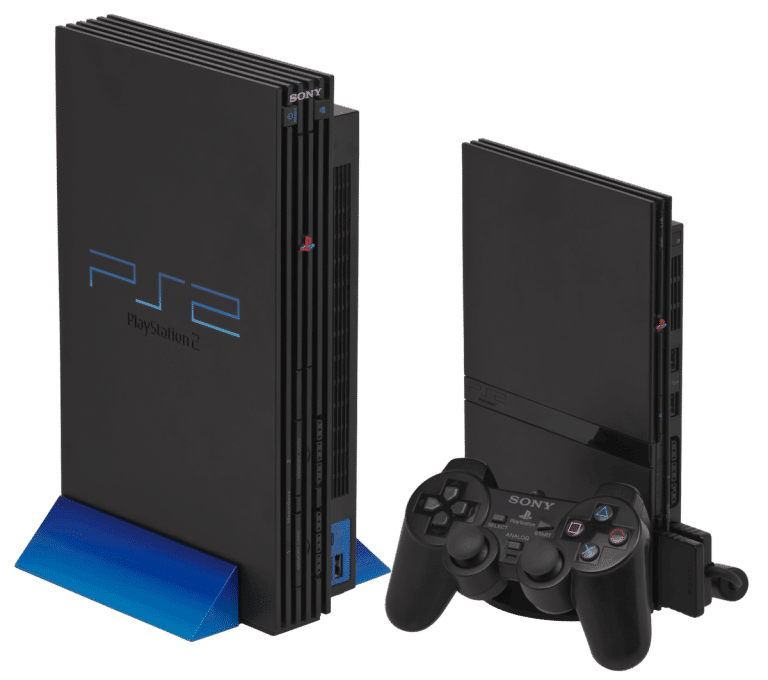 Sony PlayStation 2 (Sony PS2) is probably the most famous and popular gaming console of the last decade. It can be deemed old now as the PS2 does not support high resolution and its media capabilities are limited (no internal memory, although it can "read" DVD video). But the PS2 has a fantastic library of games.
If you do not chase after new versions and do not choose games based on the graphics quality only, the "old" PS2 will surprise you. It is also a good choice for those who do not (and do not plan to) have a modern HD TV – the PlayStation 2 is easily compatible with old TVs.
Nintendo Wii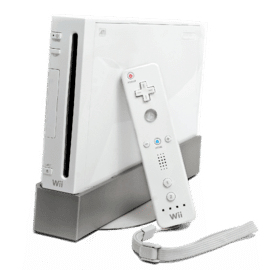 Another well-known console, which made a great noise at its time, is the Nintendo Wii. Its secret is an unusual control system. Nintendo Wii offers universal games for the whole family, not just for experienced gamers. Wii tracks the movement of controllers in space, so you can perform a lot of actions with simple intuitive movements. Do you need to beat off a tennis ball with a racket? Just make a typical swing in the air, as if you had a real racket in your hands. Such "tricks" are used in most projects for Wii, so you can play them without any experience and games themselves are often designed for fun games in the company – football, bowling, archery. Thanks to this, the Nintendo Wii will spice up your home leisure time and can also be used as a fitness simulator, as active movements help to burn calories.
You can also buy a "light" version of the Sony PlayStation 3 (Sony PS3) with 12 GB built-in memory. And if you want the ultimate configuration, there is a version with a 500 GB hard drive.
Sony PlayStation 3 Slim review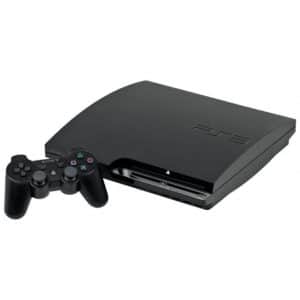 Sony PlayStation 3 has defined its position right away – this is not just a game console, but also a versatile home media complex.
PlayStation 3 is a great device with rich media capabilities. It can be used as a Blu-ray disc player, it can read image and video files and play your music library.
You don't have to rewrite files on the built-in hard disk. You can just connect an external HDD or flash drive or mark your PC as a media server and PS3 will connect to it via Wi-Fi.
As for the games for the PlayStation 3, they are awesome as well:
cool exclusive hits such as the fantastic shooter Killzone
car simulators such as Gran Turismo
HD remakes of classic PlayStation 2 games such as Prince of Persia
modern multiplatform games – GTA, Assassin's Creed, Call of Duty, etc.
Sony's online store PlayStation Store is regularly updated with new products; today you can buy any new digital release there. And if you purchase a premium account, you will get free access to a set of great games every month.
We should also note that a lot of PlayStation 3 projects support the stereo format and can give a second wind to your 3D TV. For those who want to fully immerse themselves in the game and are ready for shopping, we recommend Sony virtual reality helmets. They are quite expensive, but they will give completely new impressions from the game.
Sony PlayStation Move review
With funny Move controllers, you can control the game with intuitive movements.
PlayStation 3 can entertain a company on the TV just as good as Nintendo consoles. Sony has released the Sony Move Starter Pack, a special motion controller. Its movements are recorded by the camera, so even your grandma can easily throw a virtual frisbee and you grandpa can become a fearsome gladiator waving his sword. In addition, the Move is used not only in simple games for inexperienced gamers. It offers an alternative control scheme for some hardcore games. Thus, you can aim in the Killzone shooter with a gamepad or you can use the Move with a special toy gun.
Microsoft Xbox 360 S review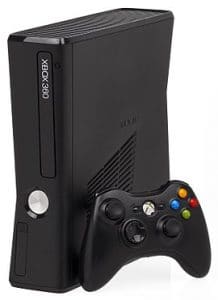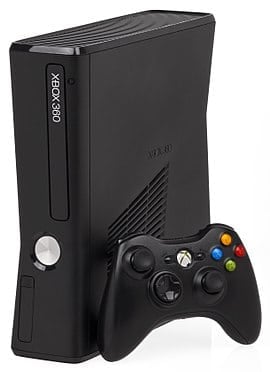 Funny controllers Xbox 360 Slim got rid of childhood diseases of the original Xbox 360 and has become perfect for modern multiplatform games
Microsoft's alternative to Sony is the Xbox 360 Slim. Like the PlayStation 3, it is available as a budget version with 4 GB internal memory and as a top configuration with a 250 GB hard drive.
In terms of functionality, the Xbox 360 is very similar to the PlayStation 3: it can display pictures, play music and video both from electronic media, the built-in HDD and media server setting. The only difference is that it has not a Blu-ray, but DVD drive, so if you see the game console as a full-fledged media processor, it's better to choose Sony.
Another advantage of the Xbox 360 is exclusive games:
fantastic action games Halo and Gears of War
a series of fantasy adventures Fable
car simulators Forza
multiplatform game series – Battlefield, Need for Speed and others
An important detail: if you want to play on the Internet, you will need a paid Xbox Live account. The annual subscription costs a lot, but the network community on Xbox is more active.
Microsoft Kinect review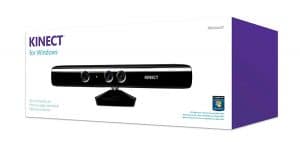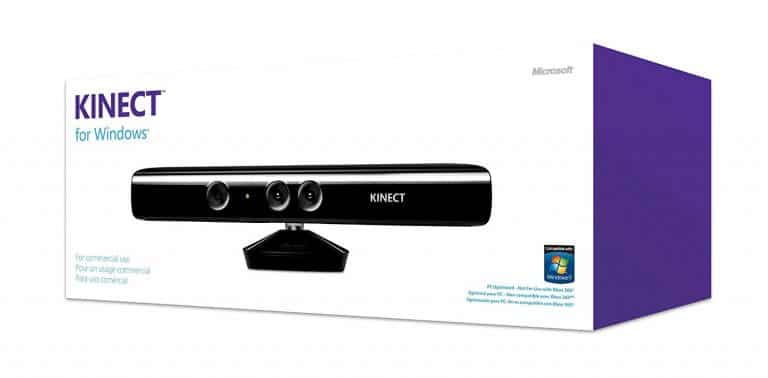 "Your body is a game controller" was a slogan of the Kinect advertising campaign. And it didn't lie.
Kinect will add even more interest. This device connects to the Xbox 360 and follows your movements with built-in cameras, so you can play without any controllers.
For example, in Kinect racing games, you can drive a car by putting your hands on an imaginary wheel and turning it to the sides.
The Xbox 360 is the only console supporting a cool dance game Dance Central, where you repeat movements of virtual dancers as accurately as possible to a variety of melodies.
Nike has developed a special fitness program for Kinect – Nike + Kinect. Now you don't have to go to the gym and can do a full-fledged training in front of the TV at home.
Apart from the Sony and Microsoft products, there is the latest Nintendo console – the Nintendo Wii U regarded as a console of not this, but the next generation. The controller in the form of a tablet is the main feature of the Wii U. The console can display a picture on its screen, so you can play without a TV
But we can't say that Wii U has progressed in terms of hardware. On the contrary, its inside will not amaze game hardware experts and the Wii U's graphics is not always of high quality. Nintendo attracts with another thing.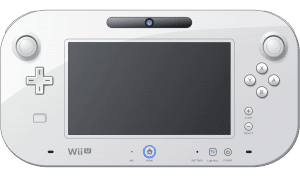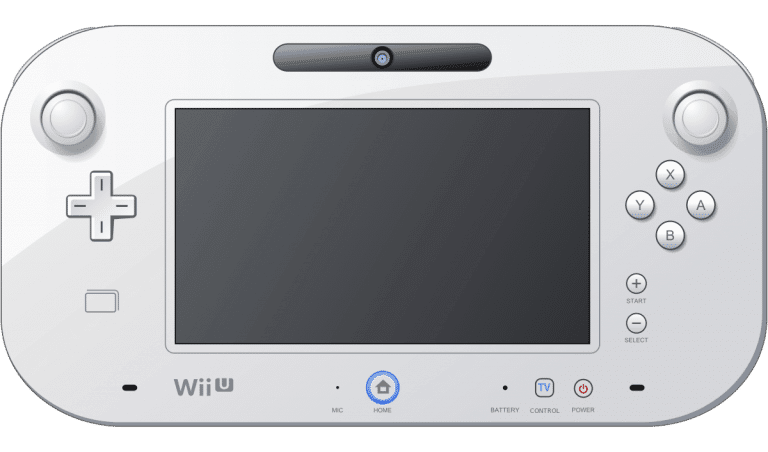 The Wii U set includes the Wii U GamePad, a small tablet with buttons and a stick for active playing. The tablet connects to the console "via air" and the game picture can be displayed directly on its screen. That is, with the Wii U there is no need for TV at all.
But if you do have a TV, then the Wii U GamePad screen will display useful additional information. For example, highlight the track map in a racing game. In addition, in most Nintendo games, you can often perform some additional actions by pressing on the tablet screen.
Just like the Nintendo Wii, Wii U is mainly focused on playing in the company, so its library has some good party games:
always funny and interesting adventures of Mario;
HD-remakes of classic games, such as The Legend of Zelda: The Wind Waker;
there are also some multi-platform games coming out, such as Deus Ex.
But at all this, a variety of games for the Wii U is quite small. This fact, as well as its limited media capabilities, are the main drawbacks of this console. Backward compatibility with games and accessories for the usual Nintendo Wii does not help simply because the Wii is much cheaper.
Finishing this small tour into the history of previous generation consoles, we should note that they are hardly worth considering when making a purchase.
On the other hand, even today the PlayStation 3 is a good choice as the first console for a child thanks to a huge library of games. But game developers spend less and less time fine-tuning games for old consoles, so, even though there is a certain game, you should not expect add-ons.
New generation stationary consoles
Speaking of today's gaming consoles – Sony PlayStation 4 and Microsoft Xbox One – we should first note that they made no revolution when coming out. The reason is that New Sony and Microsoft consoles are just upgrades of previous versions. They have become more powerful, they have better integration with the network, but in the rest, they are not quite different from their predecessors (PS3 and Xbox 360).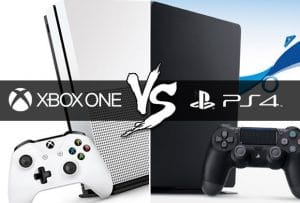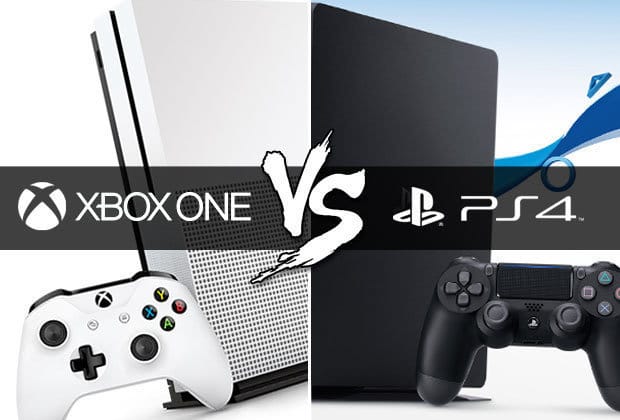 PlayStation 4 and Xbox One are so similar that all "hardware" experts were searching for a fundamental difference between these two consoles for a long time, but did not come to a single conclusion.
Nominally, the PS4 is somewhat more powerful and can display a slightly higher resolution graphics. In the rest, the characteristics and capabilities of these consoles are almost the same.
They both have a Blu-ray drive and built-in hard drives of 500 or 1000 GB versions. Both consoles can be used as home media centers. But there are still little differences.
Microsoft was blamed for the new Xbox looks like an ugly old VCR, but its simple forms cover functionality. Microsoft traditionally created the Xbox One focusing on the US market. That is why it widely advertised binding the console to popular US media services. For example, with Xbox One you can watch NFL (American Football League) matches and get useful real-time game statistics. The huge interest of Americans in the NFL is undeniable.
While the Xbox One includes an updated Kinect – a set of cameras reading your movements and allowing to play (certain games) with no controller at all. Improved Kinect has become more accurate and requires less space for proper operation. Now you don't need to move at least three meters away from the cameras so that they can "see" your full body.
Sony's conservative policy ultimately allowed it to create a more versatile device. Gamers' console, as it was called at official presentations, focusing on the fact that the PS4 is primarily a gaming device. You should not expect any new capabilities from it. But it does its job perfectly without burdening with unnecessary functions. And the choice of games for the PlayStation 4 is wider than for the Xbox One. Sony holds true to the tradition, even a gamepad of the new console almost did not change from its predecessors.
If you want to purchase a modern gaming console, we recommend choosing one of your favorite companies.
Thus, Xbox 360 fans should prefer the Xbox One (even considering the above-mentioned details), and Sony fans should not even think about fleeing into the "enemy" camp. But if this is your first purchase and you don't have experience with the current generation consoles, we recommend the PlayStation 4. The official shipping, warranty and a greater choice of games will save you from unnecessary problems.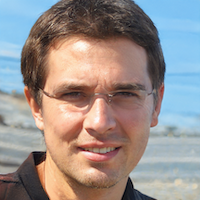 Edwin Roberts
Edwin is a certified design and home interior specialist. He also has extensive personal experience in home improvement and housekeeping.