Know what is it that the Britons hate the most?
You guessed it – doing the ironing.
Hence the reason why we recommend switching over to the steam irons.
Apart from working wonders on rumpled garments, the best steam irons are a cinch to use. Also, while they do generate enough steam to easily smooth linen and dry cotton, you can scale down their heat to handle the most delicate silk as well.
Best Steam Irons 2019 – Comparison Table
| | Rowenta DW9280 | CHI 13102 | BLACK+DECKER D2530 | Panasonic PAN-NI-WL600 360 | Rowenta DG8520 |
| --- | --- | --- | --- | --- | --- |
| Weight | 3.85 pounds | 3.5 pounds | 3.31 pounds | 4.4 pounds | 12.21 pounds |
| Auto Shutoff | Yes | Yes | Yes | Yes | No |
| Water tank capacity | 12 ounce | N/A | 12 ounce | 4 ounce | 47 ounce |
| Soleplate Material | Stainless-Steel | Titanium Infused Ceramic | Stainless-Steel | Curved Stainless Steel | Stainless Steel |
| Length of Cord | 7 feet | 8 feet | 8-feet | Cordless | 1.9 meter |
| Warranty | 1-year | 2 year (limited) | 1-year (limited) | 1-year | 1-year |
| | Check price | Check price | Check price | Check price | Check price |
Steam Iron Reviews
Rowenta DW9280

– Best steam iron in 2019 (Our pick)
Even though it is a pricey choice for a household appliance, the Rowenta DW9280 has enough bells and whistles to justify its price tag. So if you can afford to pay extra, this model won't cause you to regret your decision.
Starting with a glance at its design, the DW9280 has gone for the combination of stainless steel soleplate and silicate coating. While the former allows the iron to provide even heat transfer, the latter provides it with a nonstick and scratch-resistant surface.
More importantly, the entire surface of the soleplate has micro steam holes for excellent steam diffusion. You also get a steam precision tip which allows you to target steam at a specific area. Consequently, if you're encountering stubborn wrinkles, this feature would just smooth them away.
Furthermore, this device comes with two very unique features for a small household appliance in a Smart Steam Motion Sensor and Ready-Temp.
The first of these features helps save water and electricity by turning off the steam when the iron isn't in motion. The Ready-Temp feature, meanwhile, lets you digitally control the temperature of the soleplate. What's more, it also has an LED display to tell you when your desired temperature has been met.
What's more, this device automatically adjusts its steam output based on your fabric. That doesn't mean, however, that you can't control it. For, located below the handle is a thermostat knob for both temperature and fabric settings.
Turning our attention to the convenience features of this model, and its auto shut-off feature comes into play. This feature, by turning off the iron after you've left it on its soleplate for 30 seconds, saves your fabric from getting burned. Conversely, if you've left the iron on its heel, the time window is of 30 minutes before the device would get shut off.
Finally, unlike most steam irons out there, the Rowenta won't require you to manually clean it. Instead, thanks to its self-cleaning and anti-calc system, the device automatically flushes out mineral deposits.
As stated earlier, the only qualm that we have about this model is its price. That aspect is the only one which could dissuade people from purchasing this model.
What we like:
Scratch-resistant and nonstick soleplate
Auto- safety shutoff
Smart Steam Motion Sensor
Self-cleaning system
What we didn't like:
CHI 13102
For those of you who are dissuaded by the price tag of the abovementioned model – and want something a little less expensive – the CHI 13102 Steam iron is definitely worth a shot. That said, its decreased price tag means it doesn't have some of the bells and whistles of the Rowenta.
One feature of this model which has genuinely impressed us is its electronic temperature control.
Instead of forcing you to manually set the temperature, this feature asks you to select the fabric. That's right; stop the dial at the fabric which you might want to iron – from the list of linen, cotton, wool, silk and synthetic – and the CHI 13102 would automatically adjust its temperature.
Using common sense, CHI realized that one way to increase the steam output of this model is to increase the number of steam holes. Consequently, they have provided this model with over 400 steam holes. As a result, you'd be able to cover a big part of the fabric in a single swoop.
To give you more control over the device, it comes with a steam release lever. This feature lets you control the amount of steam which will be released by the iron. In this way, you can moderate the iron's steam output to avoid refilling its tank again and again.
Turning our attention to its soleplate, and what you'd find there is a combo of titanium and ceramic. While titanium forms the base of the soleplate, its coating is of ceramic. That way you can get the increased durability of titanium and the even heat transfer of ceramic at the same time.
Furthermore, making this device a cinch to use are two specific features, both of which deserve a mention. The first among those is its textured grip which you can easily hold in your hands without fear of the iron getting slippery even in sweaty hands.
Second, it has a retractable cord using which you can easily store the iron when not using it. Also, since the length of the cord is a considerable 8 feet, you won't need to park your clothes near an electrical socket to use this iron.
The only thing which troubled us while testing this product was the lack of a safety shutoff feature.
What we like:
Electronic Temperature Control
400 Steam Holes
Steam lever for precise control over steam output
What we didn't like:
BLACK+DECKER D2530
The Black & Decker D2530 offers a no-nonsense steaming power with high-end ironing and a large reservoir. Therefore, if all you want to do is to iron efficiently, check out this model.
Operating at a massive 1,500 watts, the D2530 can tackle steaming or ironing most fabrics with ease. Complementing the power of this model is its stainless steel U-shaped soleplate. With seven temperature and fabric settings, the soleplate can touch temperatures up to 160 degrees.
Even though this model is one of the bulky ones out there, it has made good use of its added weight. Take the example of its reservoir capacity, for instance. Capable of storing 12 ounces of water, the built-in, transparent reservoir won't bother you with frequent refills.
What's more, this unit won't require you to look at its digital display to check whether the iron has reached your desired temperature or not. Instead, it provides tone-sounds which start beeping the moment your set temperature is met.
However, if you don't like the noise, you can turn off the sound and turn to the unit's LED display. For, when the iron has reached your desired temperature, the screen flashes "READY". In addition, you can also use this model as a steamer to vertically iron hanging clothes.
Moving on, and to improve both the lifespan of this model and also your ease of using it, it has a self-cleaning function. This feature does that by automatically removing impurities off the soleplate. Hence there is no need for you to manually clean this unit.
Also, if you leave the iron unattended for 10 minutes, its built-in safety feature would automatically turn it off. The iron's buttons, dials, and body also stay cool-to-the-touch even when the soleplate is searing hot.
Compare it with other steam iron reviews, and you'd notice that its 31 steam holes are well below par. For, the best steam irons off up to 10 times as many steam holes as the D2530.
What we like:
Auto-shutoff and self-cleaning system
Multiple temperature and steam settings
Digital, LED display
Considerable capacity of water tank
What we didn't like:
Panasonic PAN-NI-WL600 360

– Best cordless steam iron
It doesn't matter which list of the top rated irons you turn to, the name of Panasonic will always be there. That said, it wasn't the brand name but the performance and stellar reviews received by this steam iron which merited its inclusion in this review.
Starting with the best this cordless steam iron has to offer, and its ease of usage comes to the fore. Three steam preferences and three heat levels are all neatly stacked – and easily accessible – atop the iron. They allow you to quickly switch between acrylics (low), wools (medium) and cotton (high).
Maneuverability is one feature of this model where it unabashedly shows off. It has a curved soleplate which you can move in all directions with minimum fuss. What's more, the movement also feels natural and stainless steel adds to the glideability as well.
In case you are wondering, the absence of cord doesn't mean that the WL600 runs on batteries. Instead, it comes with a charging base which has with a 6' retractable cord. If the iron requires charging, simply place it in the charging base, plug the base in, and it will heat up.
Furthermore, the detachable water tank of this model doesn't fail to impress, either. That means there is no need to bring to the sink the whole iron to refill. You can leave the iron charging in the base and simply detach its tank for refilling.
Just like the best irons out there, the WL600 comes with auto-shutoff and anti-calcium systems. It has an electric sensor which would turn off the iron after it stays for 10 minutes in the base. The anti-calcium system, meanwhile, prevents sediments from building up inside its vaporizing chamber.
Lastly, it has an anti-drip system with a water-seal on the inner side. Provided with a sensor, this system shields fabrics from water spotting. Next to it is the vertical steam button pressing which the iron would provide a steady spurt of steam to hanging garments.
The capacity of the water tank of this model is a mere 4 ounces. That means you might need to frequently refill it during long ironing sessions.
What we like:
360-degree functionality
Top-notch wrinkle removal
Auto-shutoff, anti-calcium and anti-drip systems
Detachable water tank
What we didn't like:
Capacity of water tank is low
Rowenta DG8520
The Rowenta DG8520 is one of the most inexpensive steam generator irons in this review. Fortunately, its reduced price tag has done no harm to the features that this portable steam iron provides.
First things first, you'd never yearn for more steaming power when operating this model. It has an 1800 watt system which generates 5 bars of pressurized steam on the push of a button. Also, provided its tank is full, the DG8520 would operate nonstop for full 90 minutes.
That is, because, this unit is equipped with a massive 47-ounce water tank; more than any other iron in this review. And if you set the steam setting at low – since there are three on offer, a full tank would last up to 2-hours on one refilling. That means you won't have to refill it even during long ironing sessions.
Making full use of the massive water capacity of the tank are the 400 steam holes in this model. The distribution of these holes along the soleplate ensures that they provide even steam diffusion. The soleplate, meanwhile, has a scale collector which keeps corrosion at bay.
However, for those of you who want a more delicate touch, this model provides the same with its Eco-energy mode. Activate this model, and the iron would consume 20% less energy and only require less than 2 minutes to heat up.
Lastly, provided you want to refill the tank, don't bother taking the whole iron to the sink. Instead, merely remove the tank because it is detachable. Similar ease is on offer when you look at the power cord which measures a considerable 1.9 meters.
As the savvy eyed among you might have noted, this lightweight steam iron lacks the auto shutoff feature.
What we like:
47-ounce water tank capacity
Eco Mode saves energy
Provides steam at high pressure
1.9-meter power cord
What we didn't like:
Steam Iron Vs. Dry Iron – Why Steam Rocks!
First thing first, the reason we recommend steam irons is because they are miles ahead of their dry counterparts in every aspect. Have doubts about the veracity of this statement? Let's quash them
Low Ironing Time: Thanks to the dual application of heat and water, steam irons easily remove wrinkles from even the toughest of fabrics. Consequently, you can be done with the ironing in no time.
Easily Remove Wrinkles: Almost all of us at one time or the other come across a fabric with stubborn wrinkles. In such times, having a steam iron would be a godsend. That is, because, it allows easy removal of wrinkles by wetting them with its mist droplets.
2–in-1 Option: Ever come across an electric iron which lets you convert it into its steamy counterpart? Me neither. However, you can easily use steam iron as a dry iron provided you don't put water in their tank. So you can easily take advantages of a 2-in-1 model.
Less Costly: Even though they are easier to use, steam irons still cost less than their waterless counterpart. That is, because, they are less complicated and are devoid of those high-end features which you'll never use.
Types of Steam Iron
Steam irons are divided into three types due to the soleplate they use; which is the metal plate that forms the base of your iron. Let's look at each of these types to decide which one will suit you the best.
Ceramic Steam Iron
Such irons have either an aluminum or a plastic soleplate with a ceramic coating over it. Since ceramic is made from clay, the application of heat makes it hard and brittle. Consequently, it becomes better suited to iron your clothes. That said, as you will see next, not all is hunky dory with ceramic steam irons.
What we like
Most inexpensive of the lot
Eliminate or prevent statics
Prevent clothes from sticking to the soleplate's surface
What we don't
Can melt lightweight materials i.e. silk at high temperatures
Stainless Steel Soleplate
When it comes to durability, nothing can match the sturdiness of stainless steel soleplates. Also, in stark contrast to ceramic, stainless steel conducts heat evenly, which means there are less/negligible chances of hotspots.
What we like
Would remain with you for years on good handling
Easy to maintain due to cleaner surfaces
Even heat distribution
What we don't
Might cause sticking of decals or glues at high temperature
Titanium Soleplate
Best of the lot, titanium soleplates are incredibly lightweight yet provide excellent transfer of heat. Also, since they have a corrosion resistant surface, titanium soleplates are a cinch to clean. Consequently, you won't have the problem of encountering sticky surfaces on ironing lightweight clothes.
What we like
Corrosion resistant surface and incredibly easy to clean
Fast Heat Transfer with no hotspots and even heat distribution
Incredibly lightweight yet durable
What we don't
Can reach high temperatures
Best Steam Irons – Buying Guide
Before making the purchase, we recommend you go through this buying guide first. For, it contains the features which separate the best steam irons from the riffraff.
Limescale Filter
Ever wondered why some steam irons – after performing incredibly for the first few months – literally lose steam? That happens because of the buildup of a cheek, white crust known as limescale inside their water tank. The particles of this substance impede the flow of steam, hence reducing its output.
Fortunately, most of the steam irons these days realize the mess caused by limescale and therefore come with limescale filters. Still, it's worth checking whether the model you're looking at provides the same or not.
Comfortable Handle
Since they contain water in considerable amount, steam irons tend to be not as much lightweight as dry irons. It is crucial therefore that their handle is comfy so as to evenly distribute the weight to prevent your wrist from straining.
Handles which are comfy have a handle which isn't too wide and hence allows for an easy grip. Similarly, its ridges and the seams in the plastic aren't too hard, either. Otherwise, if that isn't the case, they might dig into your palm and cause discomfort.
Ergonomically-designed Water Tank
No other feature of a steam plate plays as crucial a part in your ease of using it like its water tank. Select a one which is too big, and the resulting weight would strain your wrist. Conversely, if it is too small, you'd have no choice but to refill it incessantly even during ironing.
Therefore, when choosing a water tank, make sure its size is neither too big nor too small.
Also, it would be best if the tank is transparent to let you easily see how much water is left in it. A nice bonus would be a removable reservoir which lets you detach it from the main unit for easy refilling.
Tapered and Thin Soleplate
Since we have already talked about various types of soleplate in detail, we'll limit this section to their design. Soleplates which taper at the nose is a cinch to slide into tight pleats and under buttons. Also, you might want them to be thin because bulky soleplates tend to get stuck into zips and buttons.
Another advantage of a thin and tapered soleplate is its ease of cleaning. With less area for corrosion to accumulate, they aren't hard to clean and require a few rubs of a coarse cloth to start shining again.
Adjustable Steam and Retractable Cord
Starting with the former, some irons provide an anti-drip feature to stop leaks, especially when you're ironing at lower temperature settings. In this way, you can easily adjust the amount of steam according to the thickness of your fabric.
As for the retractable cord, it makes sure the cord stays out of the way during ironing. At the same time, it prevents the cord from whipping during retracting.
Safety Features
When deciding about safety features, you can check for the following four in your model. First, it should contain indicator lights to tell you when the iron has become too hot. As a result, there would be less chance of the iron getting damaged due to overheating.
Second, having an automatic shutoff feature – which turns the unit off automatically on sensing abnormal temperatures – is also recommended. This feature gives you peace of mind – and saves energy – by automatically turning off the unit if you haven't used it for some time.
Finally, no other feature guarantees the safety of a model as much as a certification from a reputed body. When it comes to steam irons, two certification bodies – UL and ETL – are famous. Make sure your model contains stamp of at least one of these.
Nice-to-have Features
Before we tell you what these features are, beware that they do not come cheap. So you'd have to spend a little bit over the odds to have them in your model.
One convenient feature which we like is a burst of spray mist. By providing an instantaneous burst of steam, it helps to remove permanent creases in pleats or pants. A vertical steaming feature, meanwhile, allows you to remove wrinkles out of hanging clothes.
Next comes the anti-calcification feature which allows you to use tap water in your iron. While we recommend this feature as optional, it becomes crucial if your iron doesn't have a limescale filter. That means that you might want your iron to have – at least – one of the two.
You might also like
---
More from Closet & Laundry
---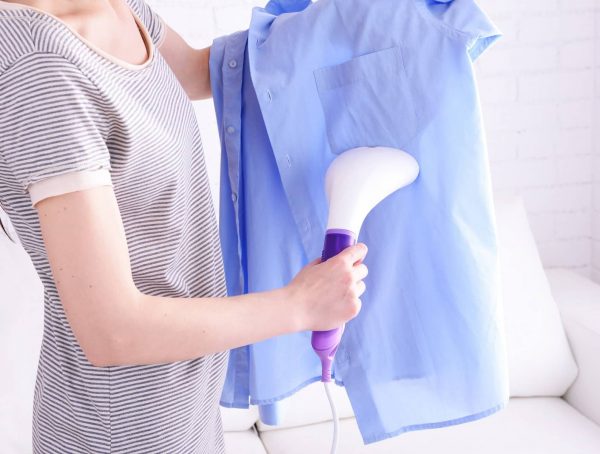 46
The importance of science and technology in our daily activities cannot be disregarded. The fashion and clothing world has also …
Editor Picks
---