In this article, we will look at automatic pool cleaners, such as suction, pressure pool cleaners, and pool skimmers. We have selected several models, but believe us, these are the best automatic pool cleaners that you can find on the market today.
In this review, you can also consider robotic pool cleaners, but first, check out the model we would recommend to you.
BEST CHOICE
Sale

POLARIS VAC-SWEEP 380
Requires booster pump
Works for an in-ground pool
Has multiples of 16 units
31-feet long hose
Best automatic pool cleaners
Apart from the robotic pool cleaners, we have three other types of pool cleaners that are also extensively used by swimming pool owners. These are:
Suction pool cleaners
Suction pool cleaners are the type of cleaners that attach to the suction port of your pool plumbing. This means they attach to the pipe and fittings that bring the water out of the pool for filtering. The suction pool cleaner hose is attached to the hole in the skimmer beneath the basket.
Once you attach the hose to run the filter pump, you create suction on the inside surface of the vacuum. The pool cleaner starts moving automatically around the pool, the path of the motion generates randomly, and it sucks out the debris, dust, or algae encountered on the way.
Suction cleaners are the most inexpensive type of pool cleaners. They do work but not nearly as efficiently as pool robot vacuums. Also, the filter basket tends to get clogs very soon. It also requires a lot of maintenance. However, the low purchase and working cost is its best feature.
Some of the best suction pool cleaners on the market are:
Zodiac Baracuda G3
This suction pool cleaner by Zodiac is one of the best on the market mainly due to its high suction power. It is specifically for in-ground pool cleaners.

ZODIAC BARACUDA G3
KEY FEATURES
Only one moving part
36 feet hose
Perfect for concrete, vinyl or tile
Cleaning disc has 36 fins
The Baracuda can clean the pool water as well as the walls of the swimming pools. It is perfect for filtering out all kinds of debris, dust, algae, and dirt.
Effortless usage
Unlike other suction pool cleaners, the Baracuda G3 does not make a hammering sound and provides its users with an effortless and efficient working.
Assembly-less
This suction pool cleaner does not need extra tools, nor does it require proper installation. It comes with a 36 feet hose and scrubs disc.
Navigation
Zodiac Baracuda G3 comes with a wheel deflector that allows it to navigate around stairs, steps corners, etc.
What we like:
Low maintenance
Has a durable and sturdy construction
Works ideally even with a low powered pump
What we didn't like:
Large debris can clog the diaphragm
Zodiac Baracuda MX6
Zodiac Baracuda MX6 has an innovative low flow design. Since suction pool cleaners solely rely on the pumping system of the pool, the innovative design provides compatibility with two-speed pool pumps. It is the best in class and provides sparkling clean water with less energy consumption and at a reasonable price.
Sale

ZODIAC BARACUDA MX6
KEY FEATURES
Works with low pump speeds
Can climb walls to clean waterline
MX flow regulator
30 feet long hose
Twist lock hose
Cyclonic suction
The pool cleaner comes with cyclonic suction that allows easy wall transitioning as well as articulating turbine. As a result, it is able to clean all parts of the pool.
Quick assembly
The cleaner comes with swivel hoses, that do not require a lot of power and technique for connection. A person can easily carry out the assembly single-handedly.
Turning ability
This product does not come with reverse movement; however, it can turn its treads independently which works well for 360 degrees cleaning.
What we like:
It can clean the water line
Has a 90 degrees twist lock elbow
Can climb pool walls
Quick assembly
What we didn't like:
Does not pick up stingy material.
Pressure pool cleaners
Like suction pool cleaners, this pool cleaner also relies on the pumping and filtration system installed in the pool. However, unlike suction cleaners, it uses the pressurized part of the pump from where it pumps the pressurized water into the swimming pool.
As the water moves through the cleaner, the wheel of the cleaner creates the required suction to remove dust, dirt, debris, as well as algae. They have their own filter bags which you can clean and remove. Hence maintenance is low. However, they are pricey like robot pool cleaners.
The best pressure side pool cleaner on the market is:
Polaris Vac-Sweep 380
Polaris Vac-Sweep 380 is specifically to clear out all kinds of small and large particles from your pool. It has a cleaning cycle of three hours and reaches all the walls and corners as well. In addition, it is a solid choice for a pressure side pool cleaner.

POLARIS VAC-SWEEP 380
KEY FEATURES
Requires booster pump
Works for an in-ground pool
Has multiples of 16 units
31-feet long hose
Performance
This pool cleaner sweeps and scrubs the floor and walls of the pool. Furthermore, it has power debris intake ability and can suck out pebbles, acorns, leaves, etc. easily.
Filter bag
It comes with a large-sized filter bag that enables the cleaner to pick up large amounts of debris at a time and does not require heavy maintenance.
Continuous cleaning
The cleaner has a backup valve installed that frees the main valve in case of clogging or cornering. This way, you get uninterrupted cleaning for 3 hours.
What we like:
Works for all shapes of inground pools
Can pick up all kinds of debris
Has a large capacity filter bag
Can clean the pool in less than 3 hours
What we didn't like:
Does not work without a booster that needs to be purchased separately
Automatic swimming pool skimmers
Automatic swimming pool skimmers basically remove the leaves, bugs, twigs, and similar debris floating on top of the pool. One way is to pick up the debris manually, the other way is to get an automatic pool skimmer that just floats on the pool surface and captures all kinds of debris that gets in the way. Moreover, most of them are solar so they don't consume any energy.
The best automatic pool skimmer on the market is:
Solar Breeze

– Best pool cleaner for leaves

This is a solar automatic pool skimmer that can pick up enough charge to run on cloudy days as well. It is ideal for in-ground and above-ground pools alike and can capture up to 95 percent of debris for the surface. It also reduces the number of dust particles floating.

SOLAR BREEZE
KEY FEATURES
Can work for 23.5 hours on a sunny day
Two 3-inch trichlor tablets
Navigation ability
Solar-powered
Long lasting
Even after the sun goes down, the Solar Breeze can last for hours. On average, this pool skimmer can run for 23.5 hours a day on a non-cloudy day.
Navigation
Furthermore, this product has navigation abilities and can carve out a path for itself capturing the maximum amount of debris in one go.
Collection capacity
The Solar Breeze has an increased collection capacity. The chemical dispenser has two 3 inches trays that provide twice the collection capacity.
What we like:
Easy to use
Low maintenance
Long-lasting battery
Double debris capturing capacity
What we didn't like:
Can stick on floating hoses
So, we looked at the best automatic pool cleaners. We hope our review was helpful for you and you have chosen a suitable underwater beast.
Last update on 2022-09-10 / Affiliate links / Images from Amazon Product Advertising API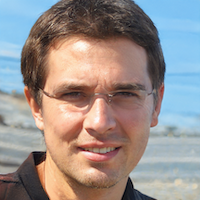 Edwin Roberts
Edwin is a certified design and home interior specialist. He also has extensive personal experience in home improvement and housekeeping.