BEST CHOICE
Sale

POULAN PRO PR48BT
Weighs 22lbs
48cc 2-stroke engine
Air volume is 475CFM, max air velocity is 200MPH
It has a heavy-duty frame
Variable speed throttle
The fuel tank contains a maximum of 49.3 FL. Oz
Would you agree with me?… Gas-powered tools are a lot satisfying when using them. That is, compared to the electrical models of the same tool.
Although it may not be Eco-friendly,  tools or vehicles tend to make it feel like you are doing something. This is the same for gas-powered leaf blowers, which is the focus of this article.
We would be honored to provide you with information about the best gas-powered leaf blowers for landscapers and homeowners.
Along with that, you will be given a guide on how to choose the leaf blowers according to your own particular occasion.
So let's begin…
Best gas leaf blowers of 2021
| Preview | Product name | Engine style | Weight (lbs) | Loudness (decibels, dB) | Powerful , fuel efficient? | Warranty | More information |
| --- | --- | --- | --- | --- | --- | --- | --- |
| | Poulan Pro PR48BT | 2-cycle | 22 | 96.7 | Yes(200MPH, 475cfm), yes | 2-years | |
| | Husqvarna 350BT | 2-cycle | 22.2 | 104 | Yes(18MPH, 494CFM), yes | 2-years | |
| | Poulan Pro PPBV25 | 2-cycle | 17 | 86.2 | Yes(230MPH, 680cfm), yes | 2-years | |
| | Craftsman CMXGAAMA25BL | 2-cycle | 12.7 | 72 | Yes(200MPH, 430cfm), yes | 2-years | |
| | Hitachi RB24EAP | 2-cycle | 8.6 | 96.6 | yes (170MPH, 441CFM) | 7-years | |
Leaf blower reviews
Poulan Pro PR48BT

– Best backpack leaf blower to clear heavy and wet leaves

Sale

POULAN PRO PR48BT
KEY FEATURES
Weighs 22lbs
48cc 2-stroke engine
Air volume is 475CFM, max air velocity is 200MPH
It has a heavy-duty frame
Variable speed throttle is present
The fuel tank contains a maximum of 49.3 FL. Oz
Cordless
2-years consumer warranty
If you are looking to start a small landscaping business or you are just a homeowner with a large yard, then the Poulan Pro PR48BT gas-powered leaf blower is right for you.
Superior comfort, minimal strain, and reduced fatigue
The Poulan Pro PR48BT is a lightweight backpack leaf blower that has features that provide the utmost comfort, during operation of the tool. It features a soft grip for easy handle, a padded & load-reducing harness to ensure a good fit, and two large adjustable shoulder straps.
With all these available, the user of the Poulan Pro PR48BT leaf blower will, In fact, provide superior comfort, minimal strain, and reduced fatigue.
Powerful engine
The Poulan Pro PR48BT gas-powered leaf blower possesses a powerful 48cc 2-cycle engine. The engine produces air velocity of up to 200 MPH, which blows air on 475 CFM of land. What it requires to run is gas and oil at a ratio of 50:1.
Special feature for easy use
The Poulan Pro PR48BT offers its users variable speed settings. This gives the user complete control of the air velocity during the operation. It big jobs a lot easy to complete on time.
What we like:
It isn't that noisy (96.7db)
Very powerful engine
Great ergonomics
Intuitive controls
Cheap
Decent fuel tank size
Strong air velocity
Excellent air volume (475 CFM)
What we didn't like:
No vacuum
It could be noisy
FAQ
Q: Does it take time for the engine to get up to speed when new?
A: It gets straight right up to speed.
Q: Can it blow snow?
A: Yes it can blow snow, but it's not designed for it. It can blow light, powdery just fine. The heavy wet ones will hardly blow away.
Q: Is it possible to use already premixed gas or does the gas have to be premixed with the oil in which it came with?
A: Yes you can premix it. As long as it follows the ratio of 50 (gas) to 1 (oil).
Q: How long can the Poulan Pro PR48BT go on  Full tank?
A: It can go as long as 5-6 hours without interruption.
Husqvarna 350BT

– Best backpack leaf blower for long-lasting task

HUSQVARNA 350BT
KEY FEATURES
Presence of air purge to help remove air from the fuel system and carburetor
Adjustable tube length
X-TORQ Engine
Ergonomic harness system
Intuitive controls
Cruise control
Airflow is 494.41 CFM
Weight is 22.5lbs
2 cc cylinder displacement
This product is evidence that Husqvarna creates top quality in various forms. The Husqvarna 350BT just like the Husqvarna 125B was manufactured with the user's health and comfort in mind. Also,  there are special features that will. Help a lot at improving the user's ease of use.
Ergonomic design for long hours use
In terms of ergonomics, the first feature to be looked at is the tool's anti-vibration dampeners. This feature ensures the vibrations produced by the Husqvarna 350BT are suppressed down to a level so that the user will experience less stress in his or her arms and hands.
The Husqvarna 350BT is the type of leaf blower that can be worn on your back. Making it easier to carry since there will be no strains on the arms. The back can comfortably take the weight of this tool, which is up to 22.5lbs.
Another set of ergonomic benefits to consider is the ventilated interested harness, the presence of a hip belt shaped to fit the waist of the user and the wide shoulder straps.
Efficient and effective performance
The Husqvarna 350BT gas leaf blower is the perfect landscaping tool for professionals or regular users with a large yard. This is so because it features a special type of engine design, known as the X-TORQ.
This engine design has what is needed in an ideal gas leaf blower, such as good fuel economy, increased power and gives off low emissions. The Husqvarna 350BT 2-stroke engine is able to provide all these benefits with its 2.1 horsepower, 50.2 ccs of cylinder displacement and a maximum speed of up to 7500 RPM.
That much speed enables the tool to generate up to 180 MPH of air velocity, which is great for stubborn leaves or grass shaving that refuse to blow away.
In terms of economical use of fuel, the Husqvarna 350BT gives you more than enough power to do any task, that is,
With up to 20% of the fuel consumed. This is enough to make you last in the yard without making quick stops to refuel the engine.
Gives low emissions
The X-TORQ engine design of the Husqvarna 350BT reduces 60% of carbon emissions. This is great compared to the standard 2-stroke engine.
Excellent fuel tank volume
The Husqvarna 350BT has a high tank volume that can contain up to 42.27 ounces of fuel. That is enough to sustain you in the fields for a very long time. This is a plus since the engine design can work long hours and only exhaust about 20% of the fuel.
Special features to improve your experience
There various special features present on the Husqvarna 350BT gas leaf blower that will assure you work on the yard comfortably.
The cruise control function is present and can be found on the tool's intuitive control panel. Its tasks are to help make the fan maintain a constant speed.
With this function, there is no need to constantly regulate the speed of the fan, you can use the tool at a particular speed for long hours. This enables the user to complete large tasks on time.
Another special feature to look at is the air purge function. Its job is to help excavate air from the Husqvarna 350BT's carburetor and due system. The aim is to ensure easy starting.
Warranty
The Husqvarna 350BT gas leaf blower is backed by up to a 2-year consumer warranty.
What we like:
Easy startup
Powerful
Light in weight
Quieter than most leaf blowers
Cruise control feature is present
What we didn't like:
It's easy to assemble but taking it apart is a bit hard. Apart from that, the tool is perfect for any yard task
FAQ
Q: Can the machine blow snow?
A: It could but not effectively, as it is designed mainly for leaves and start grass.
Q: How long does it run with a full tank of fuel?
A: It depends on how it is used. If on Full throttle, the tool could last for at most, an hour.
Q: Which oil to gas ratio works for the tool?
A: The manufacturers mentioned a ratio of 50:1 of gas to oil.
Q: How loud is the tool?
A: The blower gives a loud sound at 104db(A). This can prevent the user from hearing clearly, especially when it's working at full speed.
Poulan Pro PPBV25

– Best handheld gas leaf blower with a powerful engine

POULAN PRO PPBV25
KEY FEATURES
It weighs over 17.55lbs
Easy to touch cushion handle
Presence of an anti-vibration system
Cruise control
Powerful air volume of 680 CFM with an airtight velocity of 230 77MPH
Mulch ratio is 16:01
Backed by the manufacturer's 2-year warranty
If you are looking for power, the Poulan Pro PPBV25 gas leaf blower is just the right tool for you.
This gas leaf blower is powerful versatile landscaping equipment fit for both professionals or regular homeowners. it can be used as a blower and a vacuum.
Ergonomic design that ensures optimum comfort
The Poulan Pro PPBV25 Was manufactured with the user's comfort in mind. For instance, the cushioned handle is present to improve the user's handle or carry the handheld landscaping tool for long hours of use in a yard.
An anti-vibration system is also present to help ensure the user is experiencing the right kind of comfort for the sake of effortless operation of the tool. To be specific, the Poulan Pro PPBV25's anti-vibration dampening system job is to help prevent the user's lower muscles from developing strains.
Note: the Poulan Pro PPBV25 gas leaf blower is very heavy compared to a standard gas leaf blower. It is also very powerful. The manufacturers needed to compensate for its heavyweight, so they added S3 special features that enable comfort while using the Poulan Pro PPBV2.
For instance, there is the cushioned handle and anti-vibration dampening system. In addition, the powerful engine produces a better speed of air at a larger volume, which will make the completion of big tasks slot faster.
Powerful and versatile
Poulan Pro PPBV25 gas leaf blower has a very powerful engine. So powerful it can be used to perform two functions and they include leaf blowing and vacuuming. Both of these functions are possible with the Poulan Pro PPBV25's 22 ccs 2 cycle engine, which is capable of producing an air velocity of 230 MPH at a volume of 680 CFM.
What we like:
Anti-vibration dampening system is present to improve comfort during operation
It's Powerful and versatile
The length of its nozzles stretches closer to the ground
2-years Consumer warranty
Cushioned handle
What we didn't like:
Quite heavy to carry
Noisey
Expensive
Heavy maintenance required
FAQ
Q: does it come with a bag for its vacuum function?
A: yes it does. A bag with a strap,  to be specific.
Craftsman B215

 – Best handheld gas leaf blower to use

Sale

CRAFTSMAN B215
KEY FEATURES
User-friendly features
Powerful engine
A precise and extended nuzzle
Lightweight (12.7lbs)
Translucent fuel tank
Easy three step startup
Consumer warranty of up to 2-years
If you are looking to attain maximum convenience during hours of yard work, the craftsman gas leaf blower is the ideal landscaping tool for you.
Excellent engine specs
It has a 25cc, 2-cycle gas engine that performs just fine, as it produces air velocity of up 200 MPH and an air volume of 430 CFM.
Easy to start
The Craftsman CMXGAAMA25BL gas-powered leaf blower is indeed craftsmanship at its best, as there are three simple steps to follow In order to activate. The following steps include prime, choke and then pull.
User-friendly features
Convenience is the ultimate goal of a craftsman while this tool was manufactured. Evidently, it can be noticed in the overall weight of the machine, which is light. With that feature alone, the user can avoid fatigue and strains during and after long hours of operating the machine.
Also, you get to monitor the fuel quantity without interrupting yourself, as the fuel tank is translucent. Another user-friendly feature to consider is the variable speed throttle. This allows you to have full. Control of the machine's air velocity.
Yard care gets easier
This is so, with the powerful engine that produces its velocity of up to 200MPH and a Max air volume of 430 CFM.
Also,  the machine features an extended nuzzle with an integrated scrapper. This will provide better precision, great for clearing stubborn leaves and grasses.
What we like:
Powerful engine
Variable speed throttle is present
Translucent fuel tank
Easy to start with three simple steps
Excellent air volume and velocity (430 CFM and 200 MPH)
Light in weight (12.7lbs)
Not noisy (72dB(A)
Fuel tank Max capacity is average or low
What we didn't like:
Air volume may not be adequate
It could be noisy
FAQ
Q: What is the recommended engine oil type?
A: It requires 2-cycle engine oil.
Q: Why is the gas to oil ratio?
A: It is 40(gas):1(oil).
Q: What is the max fuel capacity?
A: 0.2 gallons
Hitachi RB24EAP

– Gas leaf blower that gives low emissions

HITACHI RB24EAP
KEY FEATURES
A class-leading air volume of 441 CFM and air velocity at the rate of 170 MPH, great for debris movement
Large two-finger throttle present for easy operation
Light in weight (8.6lbs), great for comfortable use and lessen fatigue of the user
The engine features PureFire low emission 2-stroke Technology best for the environment
A 23.9cc commercial grade 2-stroke engine is present, which provides impressive power and longer life
If you are just learning to get used to eco-friendly equipment and you don't seem satisfied. why not try out this gas-powered beauty that gives low carbon emissions.
You get to clean out your yard and save the environment at the same time. I call that a "win-win".
Lightweight and ergonomic design
Weighing over 8.6lbs, the Hitachi RB24EAP leaf blower is a lightweight tool that's great for preventing fatigue users could experience after long use.
On top of that, it's handheld design enables the user to easily maneuver the tool with little or no stress. To top it all up, this gas leaf blower features a large two-finger throttle lever that allows for easy operations.
Note: in order to improve the convenience of use, the Hitachi RB24EAP leaf blower tool's auto-return stop switch will automatically reset to on. This helps to simplify startups.
Very effective, yet it gives low emissions
Nowadays saving the environment is everyone's goal or…at least our governments. They are all looking to reduce their nation's carbon footprint, so eco-friendly tools are encouraged. The Hitachi RB24EAP leaf blower is among those tools which are encouraged, as it gives off fewer fumes that don't impact the environment significantly.
Note: In California, this landscaping tool happens to be CARB Tier III compliant. This means the device is allowed by the government to be operated.
In the case of efficiency, irrespective of how big or small the job is, this leaf blower is top-notch. There is no hindrance to its performance for the purpose of reducing emissions. In short, you get exactly what the engine behind is giving, as it possesses 23.9cc and 1.13 horsepower grade engine.
Note: The reason why it's engine gives off lower fumes than a regular gas leaf blower is due to its engine featuring a PureFire low-emission two-stroke technology.
High air velocity and volume
In addition to its efficient engine performance and great ergonomics, the Hitachi RB24EAP leaf blower is capable of producing air at a rate of 170 miles per hour. Even with the tapered nozzle attached.
Big jobs in the yard are no problem, as the leaf blower produces air at a volume of 441 cubic feet per minute.
Note: The Hitachi RB24EAP leaf blower is the best tool to use during the cold autumn season. After all, It is the time excessive leaves are expected to fall.
Even after mowing the lawn, the Hitachi RB24EAP leaf blower will do a great job clearing up stray grass clippings. Even better than a regular leaf blower.
Warranty
Hitachi's handheld blowers have up to 7 years of consumer warranty. But when used In a rental application, the warranty lasts for only a year.
As for non-rental application, the Hitachi RB24EAP leaf blower warranty lasts for not more than two years.
What we like:
It weighs only 8.6lbs
High mobility
Provides air at a velocity of 170MPH
Gives an air vole of 441 Cubic feet per meter
Quite easy to operate
Comes with up to 7 years consumer warranty
Features a PureFire low emission two-stroke technology
Give low carbon emissions
It's CARB Tier III compliant
9 cc engine
It is a 1.13 horsepower commercial grade engine
Possesses an auto return stop switch for convenient startups
What we didn't like:
It could be too loud
The engine makes use of ethanol fuel which will be thrown into the air
FAQ
Q: What gas to oil ratio is the best?
A: The standard is 50:1. But the engine is a lot smaller, so ratios like 40:1 and 30:1 can be safer.
Q: What type of oil should be used?
A: The standard 2-cycle oil is just fine.
How to choose the best gas-powered leaf blower
There are various features available on the typical gas-powered leaf blower to look at. Over here, we are going to explain four important features to look at.
Engine power & efficiency
This should be the first set of features to consider when on the look for an excellent gas-powered leaf blower. The more powerful the engine, the more effective it will be.
In terms of efficiency, the engine should be able to save a significant amount of fuel. This way,  there will be fewer interruptions while working and one can work on the field for long hours.
Note: examples of engine power: 24cc, 50cc. cc stands for cylinder displacement.
Engine style
When we say engine style, we mean the number of strokes of the piston In one crankshaft revolution, required to complete a power cycle, within an internal combustion engine. The gas leaf blower is a 2-stroke engine or a 4-stroke engine.
Note: the higher the number of strokes, the better the engine.
Weight
This factor depicts how easy it is to carry and maneuver the gas-powered leaf blower. So, therefore, the lighter it is in weight, the easier it is to handle it.
Loudness
There is no quiet leaf blower, just less noisy. If the loudness of the machine surpasses 94 dB,  then the machine is loud enough to affect the hearing of the user.
Final thoughts
Amongst all the gas leaf blower reviews we have provided,  the best to use for all your landscaping tasks is the Hitachi RB24EAP.
Despite its high price, the machine ticks all the right boxes when considering our guide. It has a powerful, quiet running engine that is fuel-efficient, lightweight, has a great engine style, and is both CARB III and EPA phase II compliant.
So there you go. Despite our pick, the choice is still there for the picking. In our list of top-rated gas leaf blowers, you at least the one that suits your taste, how you work, and the type of yard tasks you do.
Last update on 2022-09-09 / Affiliate links / Images from Amazon Product Advertising API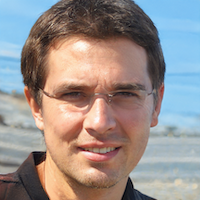 Edwin Roberts
Edwin is a certified design and home interior specialist. He also has extensive personal experience in home improvement and housekeeping.