In this article, we will try to find the best Ninja blender that will satisfy your needs.
BEST CHOICE
Sale

NINJA MEGA KITCHEN SYSTEM
It offers high versatility, capable of serving as a blender, juicer, and food processor
A large pitcher of about 72 oz. and a big bowl to achieve its food processing function
Dishwasher-safe and BPA-free parts
Impressive design and would definitely blend with most kitchens
This brand, a subdivision of the SharkNinja group, is known for its products which are a perfect integration of impeccable aesthetics and superb engineering. There are lots of products made by the company but today we will only compare Ninja blenders.
5 reasons why you should buy a Ninja blender
Some recipes won't have been easier to prepare if not for the blender technology. Now it seems as if almost all home now uses the blender tech. Of course, it is fast-selling, consequently, various brands are popping up in the market, among which is the Ninja brand. The Ninja blenders, just like other brands, come in various sizes, designs, capacity, power ratings, and, more importantly, different price tags. It is important to go through various Ninja blender reviews before making a decision. Everybody wants quality and long-lasting gadgets. Obviously, expensive blenders are expected to be of high functionality. However, regardless of their differences, there are some unique features and characteristics attributed to using Ninja blenders or the brand itself.
1. Availability of many options
As earlier said, the Ninja brand has a number of blenders under its name, all coming with different specifications and features. The mega kitchen system with a large pitcher for families and also a more portable personal blender for smaller functions. Of course, the bigger models, which can handle many functions, consume more power as a result of their powerful motors.
Some models offer more versatility and some are limited in function. Most large blender models, including the mega kitchen system, can perform the function of blending, juicing, chopping and food processing. This way, money and cupboard space can be saved in the stead of buying different machines for each function.
Some models even come with blending cups. Impressive, right? Yes, smoothies and drinks for breakfast can be made with ease. Best Ninja blenders also come with the pulse function for chopping ingredients and making salsas. Another impressive feature with some models is the FreshVac system which allows one to make quality and nutritious drinks. Auto-IQ technology is another feature to watch out for.
2. Budget-friendly prices
In general, people tend to be interested in products that offer more functions and quality at an affordable price. Ninja blenders are a perfect match for such. With a little budget of about 200 dollars, you can get the best Ninja blender.
3. Large capacity pitchers
One thing that can be associated with some Ninja blenders is its large cups and pitchers. With a large container, it is easy to make recipes, smoothies, meals, and drinks for large functions. You do not need to refill the containers, meaning that you do not have to blend your ingredients in batches. With a large 64 oz. food processing bowl and a 72 oz. pitcher, one can prepare as much as possible with no restrictions from container size.
4. Design
The Ninja blenders are one of the finest in terms of design. The designs are sleek and ergonomic. The blades are made of Stainless Steel and the motors are made up of quality coils. The pitchers are designed in a way that they also improve blending efficiency. The food processing bowls don't slack in design too.
Coming to the aesthetics, the best Ninja blenders are of top-notch design and would definitely add to the beauty of your kitchen. Adding to what is already a "complete" product, the Ninja smart screen duo, incredibly, comes with a touch screen, a feature you might not find on other brands.
5. Scratch-resistant, Toxin-free, and Dishwasher safe
Obviously, more than 50 percent of most Ninja blenders are made from plastic. The pitchers, Nutri Ninja cups, and processing bowls are also made from plastic. However, they are not made from mere plastics. The plastics are very durable and scratch-resistant. Thus, you can "eat your cake and have it". Your blended will remain almost as neat as you purchased it.
Another quality aside from being scratch-resistant is that the plastic build is free from toxins such as BPA. Since the plastic has direct contact with your food, it is, therefore, important that the plastic is safe. Quite impressive, right? You do not have to worry about any risk of contamination.
Now you are sure of the blender's resistance to scratches and freedom from toxins, the pitchers, bowls, and other accessories are dishwasher safe. Although you need to go through your manual to determine which ones to put in a dishwasher.
Best Ninja blenders in 2021
From personal blenders to sophisticated kitchen systems, we have selected a few top Ninja blender models. So, to find out what is the best Ninja blender and which one to buy, check out our reviews and comparison table.
| Preview | Product name | Weight | Power | Pitcher | Nutri cups | Auto-IQ | More information |
| --- | --- | --- | --- | --- | --- | --- | --- |
| | Ninja Mega Kitchen System | 9.2 | 1500 | Yes | Yes | No | |
| | Ninja Professional Countertop Blender | 7.6 | 1100 | Yes | Yes | No | |
| | Ninja Chef Countertop Blender | 10.33 | 1500 | Yes | No | Yes | |
| | Ninja Smart Screen Duo Technology Countertop Blender | 11.4 | 1400 | Yes | Yes | Yes | |
| | Nutri Ninja Blender | 7.58 | 1100 | No | No | Yes | |
| | Ninja Fit Personal Blender | 7 | 700 | No | Yes | No | |
Ninja Mega Kitchen System 

– Best overall

Sale

NINJA MEGA KITCHEN SYSTEM
KEY FEATURES
A big food processor container
Two Nutri Ninja cups with lids
Weighs 9.2 pounds
Consumes about 1500 watts
A big pitcher of about 72 oz
More power, more capacity! Of course, this Ninja blender and food processor doesn't disappoint. The product is indeed a "mega system". In fact, it's a big system. The blender and food processor, which can also function as a Ninja juicer, comes with decent-sized processor containers, pitcher, and Nutri cups. It is great for crushing ice, and processing and blending various vegetables and fruits, and, definitely, it will be a perfect fit for most kitchens. In addition, the product also comes with a recipe book. Read more about our review of the Ninja kitchen system below.
1500-watt motor
Since this blender is designed for kitchen use, there is a need for more power. Of course, the product doesn't disappoint as it comes with a heavy-duty 1500-watt motor. With this powerful motor, it can handle a large number of tasks, making it one of the most versatile on this list. Definitely, it won't lag when handling tough ingredients and ice since more power implies more capacity.
A big pitcher of 72 oz
Having known that this device is ideal for a kitchen, the container (a pitcher) makes it more obvious of its designation. The pitcher is big enough with a capacity of 72 oz. Furthermore, it is the perfect size for a family or large function as it can handle many ingredients at once.
What we like:
The product offers high versatility, capable of serving as a blender, juicer and food processor
Impressive design and would definitely blend with most kitchens
A large pitcher of about 72 oz. and a big bowl to achieve its food processing function
Can crush ice perfectly
Comes with a recipe book
What we didn't like:
The blender is fairly large in size.
Due to its versatility, combining up to four functions in one, the product may not last long.
Setting up the product may be pretty difficult and stressful, especially when switching from one function to another.
Ninja Professional Blender 

– Impressive blender with total crushing effect

NINJA PROFESSIONAL BLENDER
KEY FEATURES
1100-watt power motor
72 oz. pitcher
Two 16 oz. Nutri Ninja cups
3-speed settings and pulse mode
6-prong Stainless Steel blade
The Ninja Professional Blender is a fantastic blender with an unusual blade setup. Indeed, it's unusual, however, it signifies more crushing power. The Stainless Steel blades are sturdy and can easily pulverize ingredients. The powerful 1100-watt motor is also a big plus to the total crushing power of the device. It comes with a 72 oz pitcher, two 16 oz. Nutri Ninja cups and a two-foot power cable. It is ideal for families or large gatherings. Read more reviews of this Ninja blender below.
6-prong stainless steel blades
Blending, in blenders, require the use of blades. This Ninja Pro blender comes with a 6-prong blade that is made from stainless steel. The blades, coming in three pairs, are mounted vertically on an axis, together with which it makes a cyclonic effect to ensure proper blending. In less than a few minutes, the whole blending process is complete. It can also crush a pack of ice into snowflakes.
Pulse mode
The pulse mode is one of the latest features of the Ninja Professional blender. The pulse function allows you to quickly chop vegetables and other ingredients. With the mode in operation, the blender will work at moderate speed. As soon as the pulse mode is disabled, the blender stops functioning. This feature can be ideal in making salsa.
What we like:
The 72 oz pitcher is large enough to accommodate many ingredients at once. Hence, large families can consider this option.
When it comes to versatility, Ninja Pro can also be used for drinks, milkshakes, and smoothies.
Pulse mode.
Has long power cable of about two feet.
What we didn't like:
Although Ninja Pro is noisy, crushing ice makes it more intense.
The design is quite uncommon. Therefore, setting up or cleaning the device may not be simple.
The blades are very sharp and one might get injured while cleaning the blender.
Ninja CT810 Chef

– Blender for large functions

NINJA CT810 CHEF
KEY FEATURES
It is driven by a 1500-watt motor
Comes with the Auto-IQ System, manual mode, pulse system, timer and pre-sets
Automated self-cleaning function
72 oz. pitcher and tamper
LED interface and automated vessel identification system
Nothing seems so good than having a powerful blender to rely on in your kitchen for blending, especially for handling tough ingredients. Judging by the name of the product, it gives the fabulous result that even chefs shouldn't be disappointed at all. It blends ingredients at high-speed and enough power and the blades, producing a cyclonic effect, perform a great job in pulverizing them. It is versatile, comes with a large pitcher and a recipe book. You can read more about the product below.
Automated self-cleaning function
On this list, this product is the only one with a self-cleaning function. Yes, cleaning important as it determines the longevity of the device and at the same time required for healthy well-being. The automated cleaning function can adequately clean and remove stains from your pitcher in no time. Simply add some hot water, soap into the pitcher and press the button.
AUTO-IQ system and 10-speed settings
The device features the popular Auto-IQ system which helps the blender to achieve as expected. It does the work of ensuring that the blender gives you a tasty, nutritious, and fine drink. The system comes with 10 presets which you can choose from depending on the content in the pitcher and what you expect as a result. Asides from the Auto-IQ system, you can easily switch to the manual mode which comes with a 10-speed setting. In the manual mode, the result of the blending process rests on you whilst giving you have full control over the blender.
What we like:
The 72 oz pitcher is quite big and would definitely be ideal for families.
It comes with a self-cleaning function.
With its power and sturdy blades, tough ingredients including hummus can be handled better.
Relatively cheaper when compared to other products with similar specs. Hence, it offers better value for money.
With its 10-speed settings, the product is very versatile and can be used for almost any function.
What we didn't like:
The product can get very loud during use.
The blender doesn't work with a smoothie cup or mixer.
Ninja Smart Screen Duo Technology

 – Powerful and advanced countertop blender

NINJA SMART SCREEN DUO TECHNOLOGY
KEY FEATURES
FreshVac technology
Comes with a smart screen
The automated vessel identification system
Pre-set Auto-IQ system
Powered by a 1400-watt motor
This blender isn't just an ordinary blender as it's a fine blend of various fantastic features to improve your cooking experience.  The powerful 1400-watt motor ensures that you can crush ice and tough ingredients in no time. The blender comes with the Auto-IQ and FreshVac system. Furthermore, the aesthetics of the blender is enhanced thanks to the innovative smart screen featured on its base. The product seems to be the only one with the word "advanced" among our Ninja blender reviews. You can read more reviews about the product below.
Smart screen
Perhaps this is the most advanced Ninja blender on this list, courtesy of its smart screen function. The device is a no-button controlled one. It's all on a screen. The sleek smart screen allows you to select various functions and settings while it displays the feedback and current modes. Fortunately, it is sturdy and easy to clean.
The automated vessel identification system
This blender features a system that can identify the vessel attached to it. Of course, each vessel included in the pack has its own function. Therefore, with the automated vessel identification system, the motor's speed can be automatically adjusted to the function of the vessel.
What we like:
The impressive Auto-IQ system.
The powerful motor of the product allows you to blend many ingredients, including coarse and tough ones, perfectly and timely.
With the Freshvac technology, one can easily make smoothies, milkshakes, cocktails, and drinks that will produce lesser froth and even last long.
The capacity of the containers is decent.
The smart screen innovative and easy to clean.
What we did`n't like:
The vacuum pump uses batteries, hence, they will need to be replaced from time to time.
The blending process may get loud, especially when dealing with coarse or tough ingredients.
Nutri Ninja Blender

– Best Ninja blender for smoothies

NUTRI NINJA BLENDER
KEY FEATURES
FreshVac technology and pump
Digital speed display
Auto-IQ technology
Driven by an 1100-watt motor
Two 24 oz. cups alongside sprout lids
With the Nutri Ninja Blender, the difference between ordinary blenders and high-quality blenders is quite clear. The device makes it a clear distinction that, it's not just crushing and blending as it comes with the needed technologies to achieve the best blending experience. You can be assured of nutritious drinks and smoothies, using this product. Asides from its alluring design, its impressive power for blending, and two large identical cups make the product a perfect fit for your kitchen. Read more of the Nutri Ninja review below.
FreshVac technology
This technology is an innovative one from the Ninja. Often times, nutrients are lost from food during blending and this is due to oxidation. At the same time, oxidation affects the taste, flavor, and even the color of the blend. This is where the FreshVac technology comes to the rescue. The technology features a battery-powered vacuum pump. The pump sucks out oxygen from the Ninja cups and this is done before blending. By using this technology, you can be sure that your nutrients and vitamins are still intact.
Auto-IQ technology
Auto-IQ technology is another impressive one from Ninja. So what does it do? The technology allows you to make the best and finest smoothies. With this technology, you do not need to manually handle the speed of the blending process. All you need to do is press a button. The tech comes in two cycles – 45-second and 90-second. The former to prepare thicker drinks and the latter for smoother ones.
What we like:
The 24 oz. Ninja cups are quite decent enough.
The product features an impeccable design.
The innovative FreshVac technology helps to preserve nutrients in fruits and veggies.
Auto-IQ technology helps to make better drinks or smoothies.
What we didn't like:
It vibrates excessively when working tough ingredients and ice.
Although the vacuum pump is nice, it is powered by batteries and you need to change them as soon as they are weak.
Ninja Personal Blender

NINJA PERSONAL BLENDER
KEY FEATURES
Driven by a 700-watt motor
Weighs about 7 pounds
Seal and sip lids
Two 16 oz Ninja cups
A recipe book
The Ninja Personal Blender is an impressive product that offers better portability and power. With its 700-watt motor, it is capable of making your smoothies and favorite drinks as well as crush ice and frozen fruits within a few minutes. The Ninja juicer weighs about 7 pounds, the product is made of durable, lightweight, and dishwasher safe plastic. Read our review of the portable Ninja juicer and blender below.
Portable and powerful
The product's name gives a clear hint of what you should expect. It's "personal" and portable. The motor shrunk into a small build allowing it to bear the nick "small but powerful". Ninja cups can be easily stored or packed along for traveling. It comes with a 700-watt motor which is decent enough to handle most tasks.
Two 16 oz cups
Being a portable device, it is best used for making drinks, smoothies, milkshakes, and even crushing of ice. Hence, it comes with two 16 oz cups to help prepare them. Ninja cups are BPA free and durable, therefore, they are ideal for the occasion.
What we like:
The device is portable.
Regardless of its portability, the product can handle tough tasks including crushing ice.
Unlike other products on this list, it consumes a lesser amount of power.
The parts of the product are dishwasher-safe.
The plastic Ninja cups are durable and can fit conveniently into cup holders.
What we didn't like:
While cleaning, it might be difficult to reach the nooks of the cups, especially for larger hands.
It cannot handle large tasks and its function is restricted to making drinks and smoothies.
Last update on 2023-01-21 / Affiliate links / Images from Amazon Product Advertising API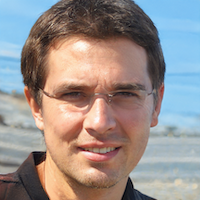 Edwin Roberts
Edwin is a certified design and home interior specialist. He also has extensive personal experience in home improvement and housekeeping.