We tested several models and selected the best milk frother on the market in 2021. Read our reviews and make the right choice.
Want to make homemade cappuccinos great again?
Then get the best milk frother.
However, finding the best milk frother is easier said than done. Not only do you've to keep your budget in mind, but you also have to prevent the great variety of frothers from distracting you of what you truly need. And finally, you want your model to have all those features which result in foamy, frothy milk.
Feel like you can't do everything stated above?
You don't have to; for we've already done it.
Best milk frothers of 2021
| Preview | Product name | Weight | Frothing capacity | Heating Capacity | Auto Shut-off | Warranty | More information |
| --- | --- | --- | --- | --- | --- | --- | --- |
| | Breville BMF600XL | 4.61 pounds | N/A | 25 oz. | Yes | 1-year | |
| | Vivreal Home Milk Frother | 2 pounds | 118 ml | 251 ml | Yes | 3-year | |
| | Nespresso Aeroccino3 | 0.85 pounds | 120 ml | 240 ml | Yes | 2 years | |
| | Capresso 202.04 frothPRO | 3 pounds | 236 ml | 354 ml | Yes | 1 year | |
| | Chef's Star MF-2 Automatic | 30/01/1900 | 125 ml | 250 ml | No | 2 year (limited) | |
Milk frother reviews
Breville BMF600XL

– Best overall
Thanks to it offering features which only some of its competitors can match, the Breville milk frother is one of the best frothers out there. However, as a mere glance on its reviews might reveal, the Breville milk frother doesn't come cheap.
Starting with the best this model has to offer, and its two frothing discs deserve a mention. The first of those discs – which has a smooth exterior – will help in making lattes. The second, meanwhile, has slits that provide foam for making cappuccinos.
What's more, since you won't be using both the discs at the same time, the unused one will automatically sit on a magnetic hook. Similar is the case with the power cord of this model which stores away easily when not being used.
Turning our attention to the carafe, it has enough capacity to prepare frothed milk for four cups at once. Also, to save you from the trouble of guessing, the carafe comes with a minimum fill line. Fill the milk to that level, and you'd get enough froth for two regular-size cups of coffee.
Equally important is the temperature control knob of this model. Located on the base of the machine, this circular dial lets you set your milk temperature from anywhere between cold stir and 160 degrees Fahrenheit.
Moreover, provided you add proper ingredients, you can use this machine as a hot chocolate maker. However, if you aren't sure of the recipe, turn to the user recipe book which contains hundreds of recipes and comes alongside the model.
Furthermore, it also gives the option of making steamed milk without any froth. Also on the menu is the option that lets you make steamed milk without any froth. That means you can use this model as a steamer as well.
Lastly, in case you're wondering, the model won't take an eternity to provide froth. Instead, as we found out during our testing, it only requires between one and two minutes to have the frothed milk ready.
Though not a problem which a good rinse cannot overcome, the magnetic hook – which holds the unused frothing disc – can lose its gripping power when the jug isn't clean.
What we like
Lets you control temperature and foam density
Dishwasher safe
Doubles as a steamer
Useful for making numerous recipes
What we didn't like
The magnetic hook needs excessive cleaning
Vivreal Home

– Best handheld milk frother

In our opinion, Vivreal is one of the best handheld milk frother machines today. Despite not coming from as famous a brand as Breville or Nespresso, the model has been making all the right waves on the market. As you'll see in the features section, the fame of this model is justified.

First thing first, the one thing that impressed us the most about Vivreal was its no-nonsense design. Beware, it has no bells and whistles, but what it has – in the shape of rubber feet and stainless steel body – makes this model as sturdy as they come.

More importantly, this model gives you the option to adjust the amount of froth. It uses two discs for this purpose, one of which can be used for cappuccinos and the other for lattes. Also on offer is a temperature adjustment function using which you can heat your milk all the way up to 115*F.

Also, for the absent-minded persons out there, this model offers an extra incentive with its auto-shutoff function. This feature automatically turns off the unit once your desired criteria are met, hence stopping it from creating a mess.

As for its performance, the Vivreal kicks off by offering three heating/frothing modes.

Activate the first, and you can have a slightly whisked milk for lattes. Turn on the second, and prepare to welcome the frothy milk needed for cappuccinos. The final option, meanwhile, lets you choose whether you want to heat the milk or not as the unit froths it.

Equally important is the one-touch operation of this model. That's right, you don't have to make way through several buttons just to heat milk. One button does it all, though you might need some practice to use it effectively.

Next comes the ease of cleaning of this model thanks to its non-stick inner coating. As a result, you only need a soft cloth to thoroughly clean the inside of the jug. Vivreal is so confident of this model that they provide it with a 3-year-warranty over and above a free replacement policy.

Compare it with other models in this review, and you can see that the 115°F upper heating limit of this model is on the lower side. Other models like the Breville offer as much as 165°F.
What we like
One button operation
Three frothing and heating modes
3-year warranty and free replacement policy
Auto-shutoff function
What we didn't like
Upper temperature limit isn't huge
Nespresso Aeroccino3

– Best milk steamer

Of all the milk frother machines that we have discussed thus far, the Nespresso 3694 is the most inexpensive. Add to the equation its "Amazon's Choice" tag, and you just cannot ignore this Nespresso milk frother.

What makes this Nespresso frother a must-have? For starters, its beautiful design and compact shape. Available in red, black and white, this model won't take much space on your countertop and operates quietly. You might also like its transparent lid which lets you see what's happening inside.

Provided you purchase this model, you would never have any problem while cleaning it. Not only does it have a non-stick interior – a feature which we take for granted, but its whisk is removable. That being said, this model isn't dishwasher safe, which means you'd have to manually clean it.

Moreover, despite the fact that this model provides hot and cold milk froth, it has the same button for both. That means you won't have to go through its user guide to learn how to use this frother.

It provides two settings for the end product – the first of which provides super dense foam for cappuccinos. The second mode, meanwhile, provides a more standard froth for lattes. And in case you are wondering how you'd adjust the froth, that's where this unit will most impress you.

For, unlike most frothers out there, the Aeroccino3 has a magnetic connection to hold its whisk. That means you won't have to make separate storage space for the whisk when not using it. Equally important is the auto shut-off feature of this model which turns it off once it meets your desired settings.

Lastly, while this model uses the same button for hot and cold froth, the capacity of each one is different. For instance, if you want to prepare hot froth, the maximum capacity that the jug would hold is 8.1 oz. Conversely, it can hold up to 4.1 oz. of cold milk froth.

While features like a removable whisk and non-stick surface are good, they cannot obscure the fact that this model isn't dishwasher safe.
What we like
Auto shut-off
Non-stick inner surface and transparent lid
Prepares both hot and cold milk froth
Available in three colors
What we didn't like
Capresso 202.04 frothPRO

– Milk heater and frother

Despite looking more like a saucepan than a milk frother, the Capresso 202.04 got the job done in our reviews. That doesn't mean, however, that it doesn't have any (minor) flaws.

Did I say earlier that this model looks ugly? Well, here's the method behind this madness: this model has a MASSIVE capacity. That's right, the flabby bottom of the FrothPRO allows it to hold up to 8 oz. of frothed and 12 oz. of steamed milk. That means it can make coffee for the whole family in one go.

What's more, in addition to providing more froth in less time, the carafe comes with a cool-to-touch handle. And to let you see what's happening inside, the upper lid of the jug is transparent, too. Though you cannot take off the lid midway through frothing to add some hot chocolate.

In case you are wondering, the huge capacity of this model hasn't made it difficult to clean. It has a dishwasher-safe milk pitcher which is also removable. Add to it the ceramic, non-stick material which makes the interior of the jug, and the model becomes a cinch to clean.

Come down from its jug, and you'd notice three tiny buttons that help this model go the extra mile. These three buttons provide three temperature settings, a rarity for frothers in this price range. Thanks to these three buttons, the frothPRO can provide scalding (hot), warm and cold froths.

In contrast to some cheap frothers out there, the FrothPRO doesn't use the same whisk for everything. Instead, it has three different disks – two of which are frothing whereas the third only heat the milk. That means that no matter what your needs are, this model will have a dedicated disc for each of them.

As if the single auto-shutoff system wasn't enough to make this model safe, FrothPRO comes with a dual shut-off system. It shuts down the device on two counts; either when it reaches your desired temperature or when/if you mistakenly pull the jug out of the base while the unit was still running.

Just like every other frother in this review, this model also has a few minor shortcomings. Its previous users claim that the cord is a bit on the shorter side.
What we like
Dual Auto shut-off
Three Whisks in the package
Huge froth mil capacity
Illuminated controls
What we didn't like
The short length of its wire
Chef's Star MF-2 Automatic

– Another good electric milk frother machine

Before we let you through our detailed review of the Chef's Star MF-2 automatic, here's the summary: this model is flexible, costs ridiculously low and still provides multiple frothing settings. And in case you want to know what those settings are, scroll down.

Going through all its features one by one, the first one that comes to the fore is its heating ring. It is a little coil around the whisk and heats the milk up to 150 *F.  Also, it takes a fraction of time – about 80 seconds – to switch from cold to warm, which means you won't have to wait for your coffee.

However, not every person out there likes his froth hot. Probably that's the reason why, on pressing the button four times, the Chef's Star will churn out cold froth. And if for some inexplicable reason the heating element goes rogue, you can get a replacement by claiming the warranty.

Turning our attention to the capacity of this model, and it can hold a lot of milk. For heating and storage, it can store up to 8.5 oz or 250ml of milk. For frothing purposes, while the minimum is 125 ml., we recommend not to froth above 150ml lest you want to turn your countertop into a mess.

Furthermore, this device comes with a vacuum insulation system, which gives it two advantages of note.

First, whether you're making hot or cold froth, the system ensures the device retains its temperature for long. Second, this mechanism is so brilliant that even when the jug's contents are scalding hot, the outer side of the pitcher would remain cool-to-touch.

Moving on, the Chef's Star MF-2 comes with a detachable base that connects to the socket and houses the motor. Thanks to its detachability, theirs is no need for you to unplug the device to pour out your finished milk. At the same time, you don't have to worry about burning your hands.

Presence of Mini and Max level indicators – as well as a sizeable warranty of 1-year – further prove the utility of this model. However, there is no warning system or alert like the auto shut-off feature that we saw above in this model.

Users have typically had two complaints about this model. First, while it has a non-stick surface, the model isn't dishwasher safe. Second, it doesn't have any safety systems like the auto shut-off feature.
What we like
Comes with a 1-year warranty
Vacuum insulation to retain its temperature
Detachable base to make for easy pouring-out of froth
Ridiculously inexpensive
What we didn't like
No auto shut-off
Isn't dishwasher safe
Types of milk frothers
Milk frothers come in four major types, with each having its own advantages and shortcomings. Let's discuss all of them one by one to gauge which one would meet your needs.
Handheld wand milk frother
As their name suggests, these frothers have a wand that contains a whisk at the end of it. They are battery operated and their whisk moves in the milk to form froth. What's more, regardless of whether you're going to froth hot or cold milk, they will come in handy.
Who should buy it: Basically everyone who intends to use his frother to froth only a few cups of milk every day. Also for those who want to froth milk on the go, as they don't require a connection with an electrical outlet.
Who shouldn't: Those who want to get the job done in a couple of minutes, for wand milk frothers take time. Also, since they consume a lot of power, you need to have spare batteries all the time.
Hand pump milk frother
These frothers have a pitcher where you insert the milk plus a mesh screen which keeps milk from spilling out as you use the frother. You need to manually pump the milk using the frother as they don't run either on electricity.
Who should buy It: Those who want a cheap option which can be cleaned in a dishwasher. Also, since it doesn't require any power, it is literally dirt cheap to use.
Who shouldn't: Those who want to froth hot milk – since the utility of this frother is limited to hot milk. Also, if you want to froth more than a couple of liters, they might not suit you as their pitcher is generally very small.
Steam frother
Also known as milk steamers, they can simultaneously froth and steam milk. That is, because, they have a steam wand using which you can add heat to the milk. The best milk steamers have the capability to froth and steam in a single step.
Who should buy it: It is an excellent choice for those who are going to make frothed milk in huge quantities. Furthermore, they deserve your attention if you want to get the best froth on the market.
Who shouldn't: Those who aren't experts in milk frothing; since you need to get right the timing to use the wand to get the milk to froth properly.
Electric frother
The most common type of milk frothers which you'll find in the market is electric frother. They have the same operating mechanism as a blender. You put the milk in a jug, cover the jug, and turn the unit on; the wand in the jug's middle – with its whisk – will cause the milk to froth.
Who should buy it: Those who want to steam and froth at the same time, need some help on how to froth (as they usually come with a guide), and want to froth large quantities of milk.
Who shouldn't: Those who aren't willing to pay above a certain amount. Also, they fare poorly if the quantity of milk that you want to froth is on the smaller side.
How to choose the best milk frother
As a mere glance over reviews of any milk frother would tell, every person has different expectations of a frother. Learning from the same, we've compiled only those features which the majority wants to see in their model.
Different temperature settings
Especially if you have multiple people at home, make sure it offers three temperature settings (hot, cold, and warm). Or even if you don't, our vote will always go in favor of different temperature settings.
That is, because, no one knows which kind of coffee they are going to like next. That means even if you want to froth only hot milk today, your spouse or maybe your children might have different inclinations. Consequently, always go for a frother that offers different temperature settings.
Non-corrosive and durable body
It goes without saying that all of us want their devices to be rust-proof. After all, which one of us has the time – or the money – to buy a new model just because the previous one had caught rust. And while we don't realize it at first, the problem of corrosion is especially serious with frothers.
That is, because, unlike most items in your kitchen, a frother would always be in contact with a liquid. That leaves it prone to oxidation; a perfect recipe for corrosion. Therefore, make sure your frother is stainless steel, aluminum or unbreakable plastic.
Convenience features
Although the features under this heading perform different functions, we decided to lump them together because all of them add convenience to the frother. Take the example of the stirrer with crevices, for instance, which makes the frother a cinch to clean.
Next up, regardless of which type of frother you may choose, it should be dishwasher safe. Otherwise, if that isn't the case, you might be left with no choice but to scrub and clean it manually.
Also, provided you can afford to pay its price tag, you might want to get a frother which provides a heating facility. That means that the device would aerate and heat the milk simultaneously, hence saving you a lot of time. So you could get piping hot milk for a blistering hot cappuccino in no time.
Finally, if you want to take your convenience to the next level, invest in a frother that offers the automatic feature. Such a feature will shut down the unit once it reaches the desired temperature. This feature saves electricity as well as it prevents the unit from operating needlessly.
Froth quality and time consumption
Granted, some premium handheld models might also excel at froth quality, but they require the person to be an expert. Provided you aren't, electric milk frothers are your best bet for an amazing froth quality.
For, apart from allowing you to set the temperature at which the machine will operate, they require minimal input from your side. Consequently, with fewer chances of human error, they provide amazing froth quality.
Similar is the case with time consumption, where electric frothers rule the roost once again. They get this ability due to their capacity of processing large amounts of milk in a small time. Consequently, even the best home milk frothers cannot compete with electric frothers who use skimmed milk.
Correct milk type
When choosing milk for your frother, follow the following tips.
First, before buying the milk from the store, check its expiration date. Only buy that milk whose expiry date is still some time away. For, older milk tends to have more glycerol which is an anti-foaming agent and therefore makes it difficult for the frother to form bubbles in the milk.
Second, if you're new to frothing, always go for skimmed milk. The reason for this, as you might guess, is the fact that skimmed milk holds foam much better than higher-fat milk.
How to use a milk frother
In contrast to what most people believe, you cannot use all the milk frother machines in the same way. Instead, as you'll see later on, a machine's type determines its operating mechanism.
Using a handheld milk frother
Heat some milk but make sure it gets warm and not hot. Otherwise, it won't foam
Take off the lid of the frother
Fill the carafe – the jug which sits atop the heating unit – to up to ½ of its capacity with milk.
Using your hand, plunge the hand pump as fast as you can for 30 seconds. In the meanwhile, use your nonworking hand to hold the carafe.
After 30 to 60 seconds, stop and look at the milk. The froth should have formed by now.
Using an automatic/electric milk frother
Plug in your unit, place the carafe on top of it, and remove the latter's lid.
Select your desired whisk attachment. Most frothers come with two – a straight one for warming milk which has no foam and a curly one for making warm, frothed milk.
Fill the carafe of the frother to up to ½ of its capacity with milk.
If your carafe comes with heat settings – hot, cold, or warm – select your desired temperature.
Switch the device on. Keep the button pressed until the unit's light turns off to indicate that it has completed its cycle.
Leave the frother running for at least 90 seconds, some might take as much as 2 minutes.
Once froth is formed, the best electric milk frothers churn out a signal – usually a bell – to let you know that the froth is ready.
Frequently Asked Questions
Q: Which milk gives a creamy, smooth froth; skimmed or full cream?
A: As experts tell us, it is the full cream milk that provides the creamiest froth. Though you've to practice quite a lot to achieve perfect froth from full cream milk.
Q: Which milk froths quickly?
A: Though it is true that full cream milk provides a dense texture of milk froth, it takes more time. Consequently, if you want milk that froths quickly, go for skimmed milk. You can ascertain this fact yourself by going through milk frother reviews on any platform.
Q: Which is the ideal temperature for frothing and steaming milk?
A: Since milk proteins start to burn around 170°F, never operate your frother close to this temperature. The ideal temperature for any home frothing machine, therefore, lies between 150°F and 155°F.
Q: Which milk is the best for making lattes?
A: Lactose-free milk, non-fat milk, whole milk, and 2% milk are the best choices if you want to make a latte. However, if you want a dairy-free latte, you can go for rice milk, almond milk, and soy milk.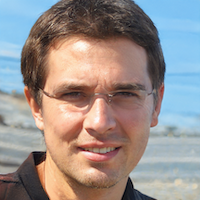 Edwin Roberts
Edwin is a certified design and home interior specialist. He also has extensive personal experience in home improvement and housekeeping.