Consequently, whether you have guests only once a month or you like to party every weekend at home – and from a high-end dishwasher to an in-budget pressure cooker – our kitchen appliances list has got you covered.
Kitchen Must-Haves
1. Dishwashers
Think dishwashers can't be high end? There are some models out there that will force you to think again. Compared to their predecessors, these models dry better, take less time and fit bigger dishes. Then there are others which adjustable racks to let you fit dishes of different sizes.
Also, in addition to cleaning dishes, modern dishwashers – like the Bosch 300 – clean themselves as well. That's right, these models let you increase their temperature to improve moisture evaporation. You can also get models that have wheels under their trays and slide in and out like a cinch.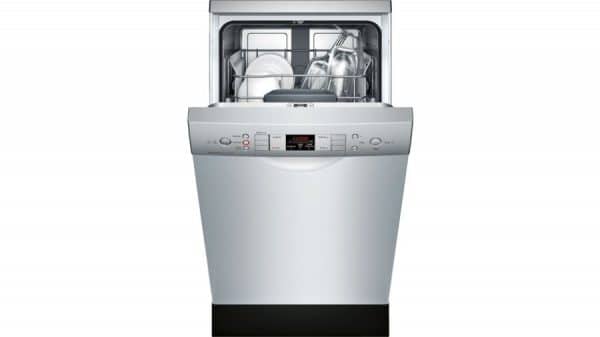 2. Wi-Fi Pressure Cookers
Want to begin cooking sous vide? Wi-Fi Pressure cookers will allow you to do just that. Most of them operate on a mechanism that requires filling a sealed plastic bag -– which has most of the air driver out – with meat. Then, they submerge the bag in a hot-water pot, before cooking it until ready.
Why is this method so good? Well, by cooking the meat for an extended period of time, these cookers break down the meat's fibers and connective tissues, hence providing fork-tender scrumptiousness. Also, since they heat meat to a specific temperature – and allow you to decide that temperature, you've no danger of overheating it.
Lastly, in terms of functionalities, most Wi-Fi pressure cookers have an LCD screen, have separate Bluetooth and Wi-Fi models, and also have their own Android and iOS apps. You must use the app if you're a newbie because it has a whole section dedicated to temperature guides for different dishes.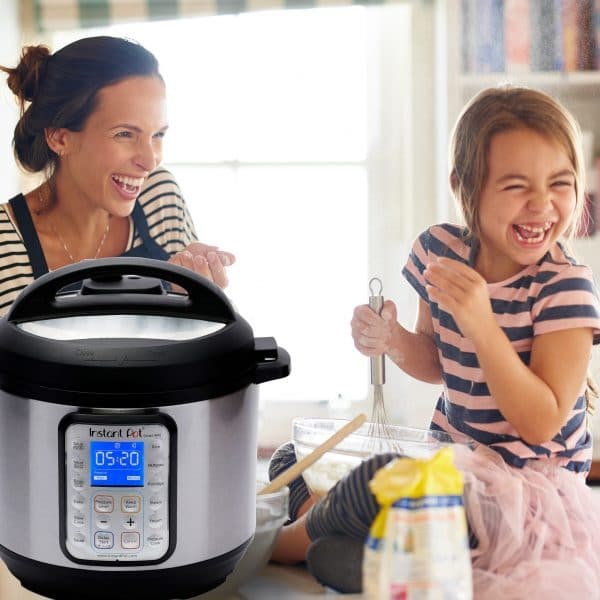 3. Smart Electric Smokers
Electric cookers solve a lot of problems. Not only do they give almost the same taste as coal-smoked meat, but they come without the nuisance of smoke. That means you can as easily use them in your living room as in your backyard.
In case you are wondering, most electric smokers have a pan full of wood chips which heat with their heating element to produce smoke. Everything sits inside an insulated box that has a cold-to-touch handle. They also have a meat probe to monitor food temperature and a temperature probe to regulate the output of the heating element.
Finally, just like most smart home kitchen gadgets, Smart Electric Smokers have an intuitive app with plenty of useful recipes. And while we recommend having a model that uses Wi-Fi – as it allows hands-free operation, you could also get smokers with onboard controls.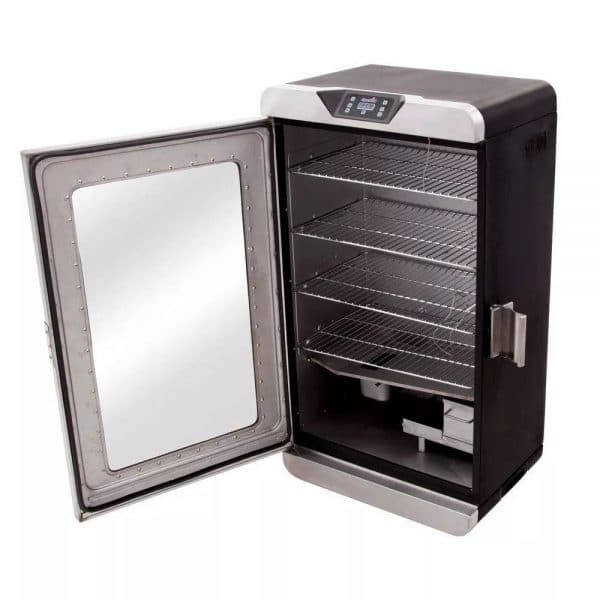 4. Smart Kitchen Thermometer
First things first, since they are "Smart", these devices aren't your average kitchen thermometer. Have doubts? Does your current kitchen thermometer have Bluetooth connectivity? Will it send notifications to your smartphone when the dish is done? I think I've made my point.
The best thing about these thermometers is undoubtedly their Bluetooth and/or Wi-Fi connectivity. Boasting a range of several hundred feet, their wireless connectivity lets you cook any dish you want at any temperature. It also gives you the freedom to set timers before sending notifications when the dish is done.
Also, if you could afford to spend extra, we recommend having a Smart Kitchen Thermometer with dual-probe capacity, especially if you want to simultaneously track temperatures of two dishes.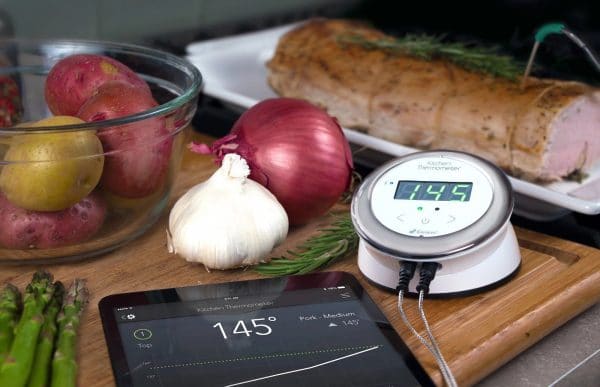 5. Smart Kitchen Blender
For those of you who want a blender which can act as a replacement for a lot of your small appliances, you can't go wrong with smart kitchen blenders.
Not only for frozen margaritas, but you could also get these high-end devices to cut whole vegetables into delicious soups, whole fruits into calorific smoothies and they can also crush ice to prepare syrupy, sweet cones.
What's more, some of them also let you program the blender the night before to have the smoothie prepared just in time for your breakfast.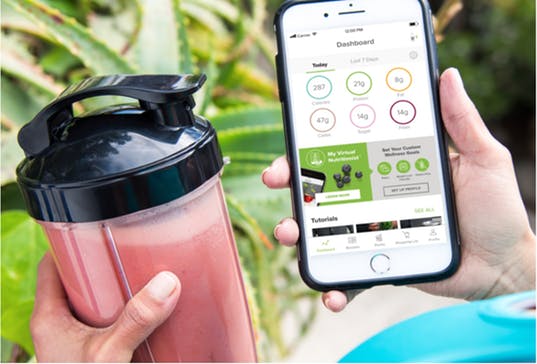 6. Smart Coffee Makers
The Smart Coffee Makers don't only make an excellent pot of coffee but also look brilliant while doing it. These devices rely on your home Wi-Fi to connect to your smartphone, whether it is Android or iOS, hence letting you brew your cup from the comfort of your couch.
What's more, smart coffee makers have a built-in memory that allows you to save your brewing profile for future use. Some of them also have the Smart Clean feature which, after you add a mixture of cleaning agent and cold water, self-cleans the device.
What's more, with their variable brewing temperatures, they give you the freedom to customize your coffee's taste. Furthermore, if you want coffee further down the line, these models let you heat water without brewing the coffee.


7. Infrared Toaster Ovens
Available in multiple colors, the infrared heating system of these ovens allows them to cook faster than their competitors. Also, provided you're able to spend a bit extra, you can even get models with a capped-maximum time, so as to ensure that you never get a burnt toast.
When choosing an infrared toaster oven, make sure it offers only one rack height. For, unlike toasters with multiple rack heights, you don't have the risk of placing the foot either too far or too close to the heating elements. So you can be sure of getting optimum heating all the time.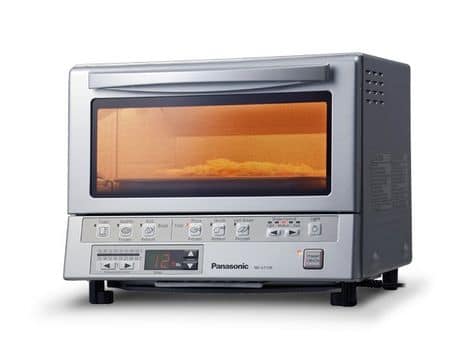 8. Air Fryers
Eating fried items isn't easy, especially if you have one eye on your cholesterol level. Still, if you can't stop yourself from noshing on fries, the Air Fryers knock the ball out of the bark. With their combination of potato flavor, tenderness and crunchiness, they make homemade fries so delectable.
And guess what? The entire nonstick coated drawer – as well as the food basket – of these high-end air fryers are dishwasher safe.
You also get a cookbook in the package if you feel like running short of recipes. And even when the temperature inside this kitchen gadget is sizzling hot, the handle will remain cool to touch, making these fryers a must-have in the kitchen with kids.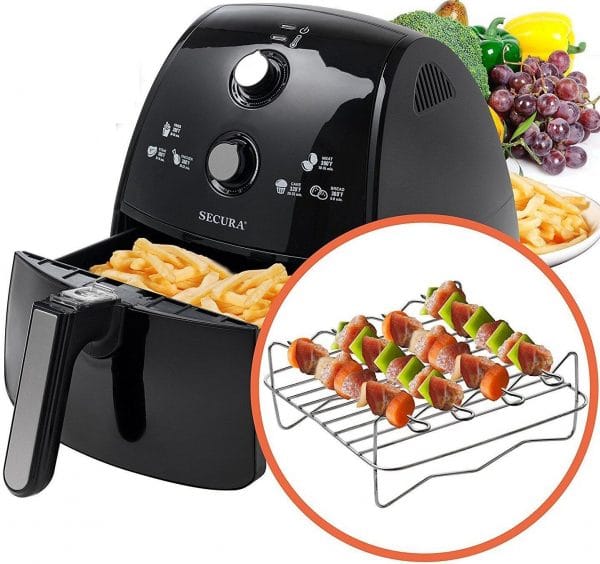 9. Induction Cooktops
In case you aren't sure what the term means, induction cooktops are designed for those whose kitchen doesn't have enough room to house a full-fledged stove. Also, they combine the benefits of both electric and gas stoves, while keeping at bay the bad points of both.
For instance, while induction cooktops areas are easier to clean as their electric counterparts, their heat supply is as stable as gas cooktops. Also, since induction transfers heat directly to the cookware – and NOT to the cooktop's surface – it means that your food will heat up quickly.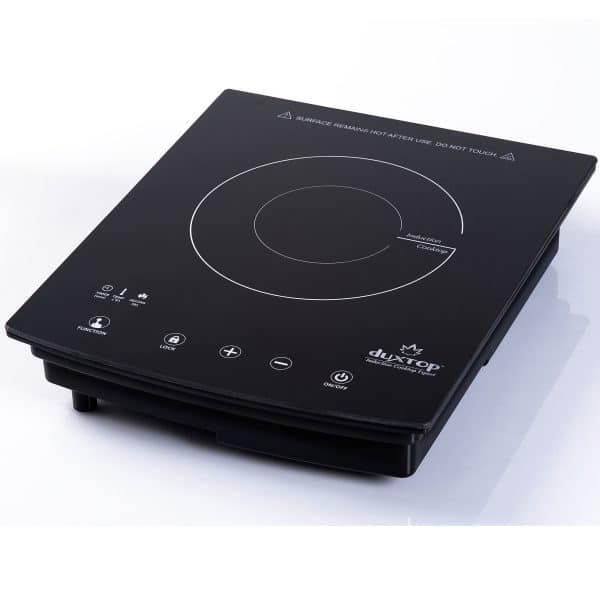 10. Food Processors
What gives the food processors their "must-have in the kitchen" status is their simplicity and ease of use. Most food processors have a straightforward interface, contains one bowl and a couple of buttons, at most. They also provide a handful of disks and accessories to complete common kitchen tasks, and nothing more.
However, in case you're wondering, its simplicity isn't a substitute for performance. Take the example of Cuisinart DFP-14BCNY, for instance, which comes with adjustable blades, for instance. By slightly changing their cutting angle, you can achieve varying levels of thickness. Then comes the 14-cup bowl to provide extra-large capacity.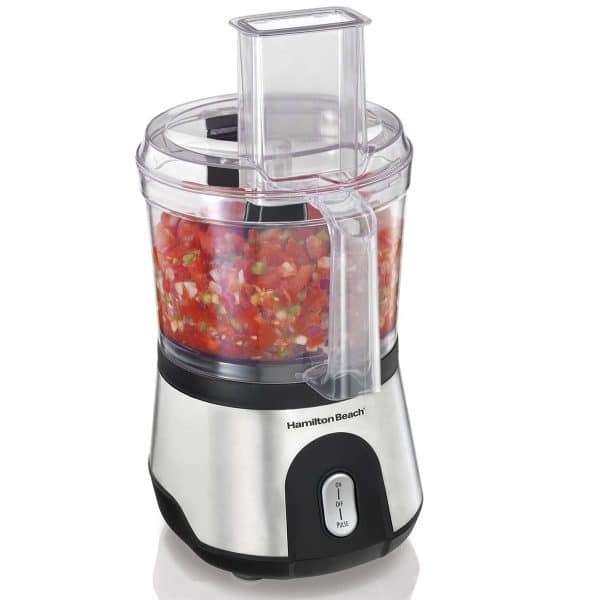 Conclusion
What is it that turns ordinary kitchen gadgets into kitchen must-haves? As you might guess, different people will have different answers to this question. That is why we recommended different products in this article so that regardless of what your need might be, our kitchen appliances list can have something to offer.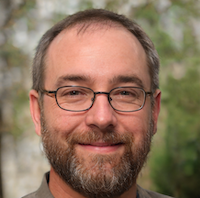 Jim Powell
Jim is our staff editor and writer. He has a degree in engineering. His hobbies are radio engineering and new technologies about which he has been writing for more than 7 years.